Alumni news
Open Research Technologies Hub delivers first course on the principles and practice of 3D printing
By: Emma Wigmore
Last updated: Tuesday, 14 November 2023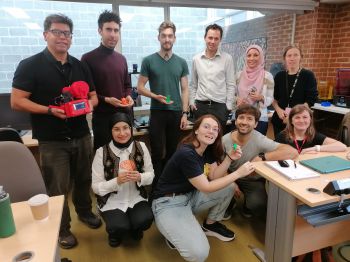 Situated in the Library, the University of Sussex Open Research Technologies Hub was established to train members of the Sussex community and external academic visitors about tools and methodologies for better, more reproducible research.
Training includes Open Source/Open Science methodologies, fast prototyping (3D print and design), electronics, soldering, programming, open data management, and leading open hardware projects.
The Hub also supports and co-develops projects that leverage open technologies for solving local issues. It is currently working with partners in Nigeria, USA and Brazil.
The first Open Science course ran from 2 – 6 October 2023, welcoming 15 attendees, which included professors, lecturers, technicians, early career researchers (ECRs), and undergraduate students.
Focusing on theoretical knowledge as well as hands on experience of 3D printing, participants learned about when the use of 3D printing might be appropriate, what kind of materials they could/should use, how to design and prepare parts to be printed, how to leverage existing models that are freely distributed online, and how to repair and service 3D printers.
By providing this training, the Hub aims to help course participants to use 3D printing technology in the creation of their own solutions for research challenges.
Dr André Maia Chagas, Scientific Officer in the Sussex Neuroscience Centre of Excellence and Lecturer in Open Science in the School of Life Sciences hosted the first training course. He said:
"It was a great pleasure to be able to host the first course in the Open Research Technologies Hub's new home in the Library. Participants remained deeply engaged for five mornings, learning the skills required to use 3D printing in a research and education setting. I am very grateful to Sussex Neuroscience, the School of Life Sciences, Research Culture and the Library for their support in turning this initiative into a reality."
In just one of its practical applications, 3D printing of Open Source hardware (physical objects whose designs are licensed in such a way that they can be studied, modified, created, and distributed by anyone) could help broach the inequality gap between G20 countries and those less well-funded countries in the Global South, particularly in terms of biomedical research and access to technologies.
Poorer countries have traditionally found themselves excluded from the development of expensive technologies, as well as having only limited access to medicines, disease testing and diagnostic tools. 3D printed research-grade lab and medical equipment comes in at a fraction of the commercial cost, making it much more achievable for poorer countries to acquire cost-effective instruments for research and medicine which are, crucially, also adaptable to local needs.
Going forward, it is hoped that the University of Sussex Open Research Technologies Hub will establish itself as a reference point amongst other hubs in similar institutions for training and the development of tools and technologies that will improve the quality of research and teaching output, whilst also making it more inclusive, accessible and equitable.