Alumni news
Celebrating a scholarship
By: Emma Wigmore
Last updated: Monday, 13 March 2023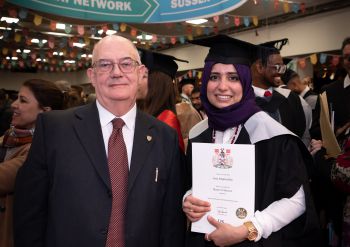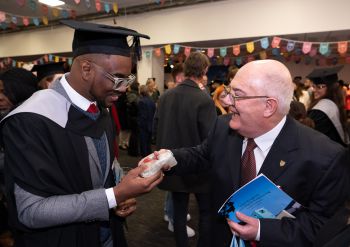 In January, almost 1,700 Sussex students crossed the stage to receive their degrees during Winter Graduation. Celebrating the culmination of years of hard work and dedication, these truly international ceremonies saw graduands descend from over 134 countries, gathering with their friends and families to share in what were moving and joyful events. This year's graduates will join the ranks of a 200,000-strong global alumni network.
However, today's students arguably face tougher barriers to study than their historic counterparts. Many of those who graduate from Sussex have only been able to access higher education and fulfil their potential because of the generous philanthropy of our alumni community. Alumni like John Kinghorn (ENGG 1968), for whom Winter Graduation provided the perfect environment to meet with and celebrate the achievements of those that he had supported during their time at Sussex.
John, who established the John Kinghorn Scholarship in Engineering, says:
"It was a pleasure to attend graduation and it was great to see my latest two scholars receiving their awards on stage. It was a fitting tribute to all their hard work. As a donor I get regular updates from my scholars, however there is nothing quite as rewarding as meeting up in person. I was impressed with them both, not just for their enterprise and skill in completing their engineering projects to a high level, but also for being thoroughly nice people who embody the Sussex values, particularly kindness. I have no doubt they will have great careers ahead of them and will make strong contributions to future improvements in their chosen fields."
Kinghorn scholars, Sana Sibghatullah (ENGG 2022) and Uchenna Ndubuisi (ENGG 2022), were thrilled to be able to celebrate their big day in the company of their benefactor and to have the opportunity to thank him for his support.
Sana commented:
"When I met Mr Kinghorn I was extremely nervous, but he was so humble that all my anxiety disappeared. We talked about my project that I had written to him about during the course of my studies, and he gifted me a book with a personalised note in it.
"My scholarship had a profound impact on me and, as an alumna of the University of Sussex, I am working hard to be in a place where I too can provide a scholarship for future students. Doing so paves a path for the betterment of an individual, which in turn leads to the betterment of society. I really hope that there are more alumni out there who, like Mr. Kinghorn, are ready to promote education and support other students like me."
Uchenna echoed Sana's sentiments, saying:
"It was a humbling experience meeting my donor and being able to show my gratitude for the support and encouragement that I received from him along the way. My scholarship had a huge impact on me, and meeting Mr Kinghorn was the perfect culmination to my year of hard work, dedication, sacrifice and significant academic and personal achievements."
Supporting a scholarship at Sussex can provide deserving students with the resources they need to pursue their academic goals, enhance their experience and achieve their full potential. It is a powerful way to invest in the future and help to create a more equitable and just society, as John extols:
"It is wonderful to be able to facilitate the education and development of such great people through sponsoring scholarships, allowing positive outcomes for those whose personal circumstances would otherwise present serious obstacles to progress. For the donor, this gives a strong feeling of doing something worthwhile, with deserving people benefiting. I hope many other alumni will remember Sussex's role in their education and their subsequent careers, and will be inspired to give something back to those most in need."
Can you give Sussex students options and opportunities that would otherwise have been out of reach by supporting a scholarship?