Alumni news
History Professor features in film telling the untold story of anarcho-pop band Chumbawamba
Posted on behalf of: School of Media, Arts and Humanities
Last updated: Friday, 6 May 2022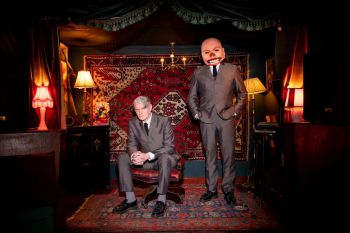 A punk version of Charles Dickens' A Christmas Carol telling the untold story of Leeds-based anarcho-pop band Chumbawamba will be screened as part of the Sussex Festival of Ideas at the Brighton Festival.
I Get Knocked Down sees founding band-member Dunstan Bruce struggling with the fact that the world seems to be going to hell in a handcart. Twenty years after his fall from grace, Bruce is angry and frustrated, but how does a retired middle-aged radical get back up again? In this punk version of Charles Dickens' A Christmas Carol, Dunstan is visited by the antagonistic ghost of his anarchist past – his alter ego, 'Babyhead' – who forces him to question his own life, sending him on a search for his long-lost anarchist mojo. A personal voyage of rediscovery, redemption, and reawakening, I Get Knocked Down is a call to arms to those who think activism is best undertaken by someone else.
The film features Sussex's own Lucy Robinson, Professor in Collaborative History, who speaks to Bruce about politics, culture and Britain in the 90s. Bruce has previously delivered guest sessions for students on Professor Robinson's Year 2 and Year 3 BA History modules. The event is being organised with Vivienne Westwood's Intellectuals Unite, building on a partnership initiated by Professor Robinson and central to a strand of events within the 2021 edition of the Festival of Ideas.
Dunstan Bruce said "I've been a guest lecturer for many, many years on Lucy's courses so of course I am delighted that our film "I Get Knocked Down" is screening as part of the Brighton Festival. We always wanted to make a film that was part of the conversation; that raised questions and caused debate. We are delighted that we are doing so here."
Professor Lucy Robinson said "I've collaborated with Dunstan in a number of projects. He's been a great friend to the History department. Students always feed back how much they enjoy Dunstan's talks, not just because of the importance of Chumbawamba and anarchopunk as part of our cultural history, but because he always helps them to think about how stories of the past are framed and shared, whether that's in song, music video and documentary or our own memories. As an accidental anarcho hit, Tubthumping touched people's lives in a myriad of ways. It blows apart made up lines between 'authentic' and 'mainstream' music and raises questions about what matters more in activism - preaching to the converted or starting brand new conversations. He is also probably the best-dressed man to ever give a lecture in Arts A. "
The screening will be followed by a Q&A with the film's Directors.
The screening of I Get Knocked Down takes place on Wednesday 18 May, 8 pm at The Depot, Lewes. Tickets are £10 /£5. A small number of tickets are still available through the Depot: https://lewesdepot.org/film/brighton-festival-i-get-knocked-down