Alumni news
Sussex to spend a further £20,000 on campus biodiversity
By: Martha Knott
Last updated: Friday, 6 May 2022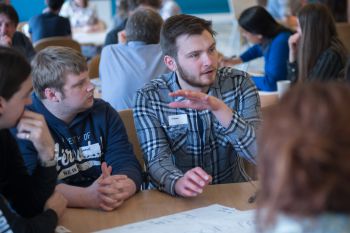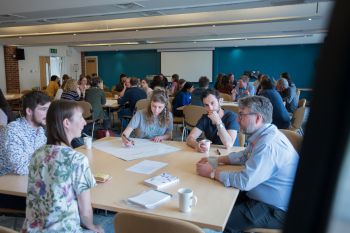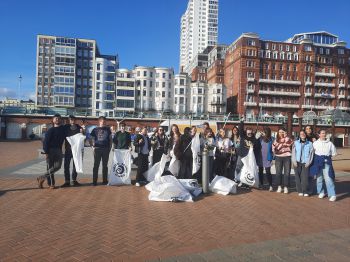 The University of Sussex is to invest up to £20,000 in innovative environmental projects as part of its bid to create the most biodiverse university campus in the UK.

The funding announcement was made as part of the Big Biodiversity Conversation that the University has been holding with staff, students and stakeholders as part of biodiversity week.

£7,965 of this funding for biodiversity projects was raised by Team Sussex runners and cyclists participating in Race for the Planet at this year's Brighton Marathon Weekend. Additional funds came from the Sussex Sustainability Research Programme (SSRP) - a partnership between the University of Sussex and the Institute of Development Studies (IDS) using world-leading excellence to deliver science to help achieve the UN's Sustainable Development Goals.
On Thursday 28 April, over 50 members of the Sussex community, from students and staff to local stakeholders, came together at an interactive workshop as part of the Big Biodiversity Conversation. Attendees worked in groups to explore projects proposed to improve biodiversity on the Sussex campus.
The University then hosted a networking reception, where attendees made new connections and discussed their thoughts from the workshop, followed by a Stop the Mass Extinction speaker event hosted by Provost Rachel Mills. Expert staff, student and third sector speakers gave talks on the role of: government; universities; the third sector; young people, and research in stopping the biodiversity crisis.
The week also included a seminar on indigenous art and resistance in Brazil co-hosted by ONCA Gallery Brighton and SSRP and a silent disco beach clean, organised with the University's charity partner of the year Surfers Against Sewage. Volunteers collected 18kg of rubbish from Brighton beach during the event.

Professor Kelly Coate, Pro Vice-Chancellor for Education and Students at the University of Sussex, said: "It was fantastic to be involved in this beach clean and the silent disco just brought a really fun element to what we were doing.
"It was really great to see our students get involved and make a real difference to the area of beach we were cleaning. We are so fortunate that our University is so close to the sea and the South Downs and we as a University are keen to play our part to ensure these brilliant natural resources are well-looked after and preserved.

"It has been brilliant working with Surfers Against Sewage throughout this year as our charity partner and I'm glad we as a University have been able to have a positive impact on all the terrific campaigning they do."

Emma Cowley, Corporate Partnerships Officer at Surfers Against Sewage, said: "We want 2022 to be a super year of ocean activism. The pandemic has shown that our Government can create change quickly and so there are no more excuses.

"Students are the next generation who can create meaningful change from the beaches to the rivers. Our waterways are continually treated like open sewers and dumping grounds. It isn't just beaches, only 14% of our Rivers meet good ecological status and 75% pose a serious risk to human health. We are calling for 200 river bathing waters by 2030."

Natasha Jenks, Residential Life Connector at the University of Sussex, said: "We were delighted to work with the Sustainability Team and Surfers Against Sewage to organise this event. All of our events at Residential Life encompass our goals to connect, support and educate students during their time living on campus – this event allowed us to do all three at once. We were thrilled to see so much enthusiasm from the student community for protecting our seas and look forward to similar events in future."