Alumni news
Join our 2021 Brighton Marathon team and support mental health research
By: Sean Armstrong
Last updated: Wednesday, 28 April 2021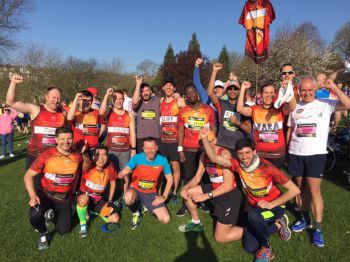 A new date of Sunday 12 September 2021 has been announced for the Brighton Marathon running and cycling events which were postponed from 2020. Staff, students and alumni are encouraged to sign up now to help take our ground-breaking mental health research to the next level.
It's free to take part, and we will provide you with all of the training and fundraising support that you need to succeed in your chosen event. Whether you are a cyclist, a complete novice looking to complete your first 10k run/walk or a seasoned marathon runner, there will be something in our support package for you.
Plus, exercise is one of the best ways of attaining good mental and physical wellbeing – so you'll not only be helping others, but yourself as well.
Dr Marina Pedreira-Vilarino, Director of Development & Alumni Relations, said: "Our participants and volunteers always have an amazing experience at these events and we can't wait to see what 2021 has in store.
"The Brighton marathon is one of the country's biggest and most vibrant races. And I can't think of a better cause to support than the University's globally renowned mental health research. Sign up today to take part in what will no doubt be an unforgettable experience, and help us raise funds for research that is improving people's lives. From now we'll be providing participants with individual training packs and the adventure begins."
Why take part?
And as one in four of us in the UK experience a mental health problem each year, society is facing a mental health crisis. Sussex is a world-leader in mental health research, both nationally and internationally, with work by academics like Dr Sonja Ayeb-Karlsson and Professor Kathryn Greenwood: