Alumni news
Sussex Grad At Home: Celebrating our Class of 2020
By: Rose Wilmot
Last updated: Friday, 24 July 2020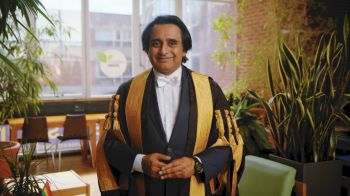 Our Sussex Grad at Home celebrations took place this week across social media and our website, with a range of videos and special messages for our Class of 2020.
Highlights included:
Our bespoke graduation Instagram filters have been used over 5,000 times, with more than 1,300 students sharing their VR (Virtual Reality) graduation pictures to friends and family. If you haven't already, take a look at the graduation filters on our Instagram profile and join in the fun.
Our final video, entitled 'A Class like no other', was released this morning (Friday 24 July) and you can watch it online.
We know nothing can replace the real thing, but it has been heartening to see so many students celebrating their achievements this week. Below is a selection of pictures students have been sharing on Twitter.
This week would have been the time for me to go on stage and hug @TVSanjeev and receive my #PhD certificate from @SussexUni. In the new reality, I received my certificate from a postman and used my home as a stage. But it doesn't matter! It's been awesome! #sussexgradathome pic.twitter.com/xXc4buf74P

— Dmitrijs Dmitrenko (@DoubleDmi) July 20, 2020
Thank you to @TVSanjeev for attending our little ceremony! #SussexGradAtHome pic.twitter.com/LPws2Zu4Jy

— Geordie Bailey (@Geordie_Bailey) July 20, 2020
Created our own Graduation ceremony at the beach with DIY certificates and all ?‍???#sussexgradathome pic.twitter.com/d1lnx1k7pP

— Charlotte Brill (@CharlotteBrill_) July 21, 2020
We love seeing your #HomeGraduation ? ceremonies! If you haven't seen them yet, head over to Instagram & try our Graduation filters, available now on our profile.

? thechemistryofaphd (Insta)

Tag us on @SussexUni, #SussexGradAtHome or email graduation@sussex.ac.uk pic.twitter.com/T85Ntv7V6V

— University of Sussex (@SussexUni) July 21, 2020
Lovely words! So proud of our daughter Maddie and look forward to her getting to experience the joy of the full Sussex graduation next year! pic.twitter.com/28ZdDjuxa7

— Nikki Cannon ? (@nikkicannon50) July 20, 2020
Graduation certificates have been posted, and students have received a letter from the Vice-Chancellor alongside a commemorative Class of 2020 print.
Students will have the opportunity to graduate in person in 2021; more information will be shared about this as soon as we are able to provide it.