Alumni news
London calling: Encouraging the next generation of media leaders
By: Emma Wigmore
Last updated: Thursday, 12 March 2020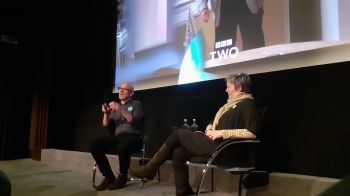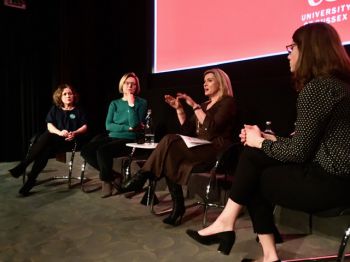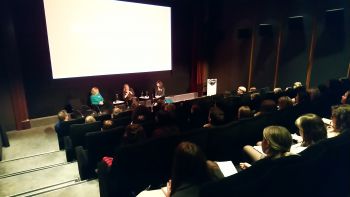 55 students joined high profile alumni from the world of media and broadcasting at the Sussex Women in Broadcast and Media event in a private screening room at Warner Bros in London.
Generously hosted by alumna Alison Morris (EURO, 1991), Senior Vice President of Sales at Warner Bros, the event attracted over 90 applications from students enrolled on courses across the University. Attendees were selected on the strength of a written statement outlining how the opportunity would benefit them, with First Generation Scholars* ultimately making up nearly half of the successful 55 applicants.
Joining Alison for the first panel discussion were Helen Boaden (CCS, 1978), former Head of BBC News and BBC Radio, and Rebecca Marshall (EURO, 1998) Managing Partner at MediaCom.
All three speakers encouraged their audience, insisting that it is a hugely exciting time to join the industry, adding that for those wishing to do so, flexibility, resilience and independent thinking are some of the key skills to develop whilst at university. They also encouraged the students to develop a supportive network of contacts in and out of work – "find your cheerleader" – and look to those who will help you to stretch your ambitions.
In an additional session, Patrick Holland, Controller of BBC2, discussed his ambition for the channel and addressed the challenges and opportunities for content makers, given the explosion of content providers. He went on to outline how inclusivity was key to the future of TV and how the industry was making progress in increasing the diversity of its employees, reiterating Alison's earlier comment that it's an exciting time to join the industry.
Alongside Alison, Helen, Rebecca and Patrick, a number of other alumni and Warner Bros staff kindly volunteered their time to join the networking and speed-mentoring sessions with students later in the day.
Testament to the overwhelming success of the event, which was organised by the Development and Alumni Relations Office and the Careers and Employability Centre, student feedback was unanimously positive. Ava Claassen, who is studying a BA in Global Media and Communications said:
"Everyone was so humble and willing to give proper advice. It was an excellent opportunity and I feel privileged tohave been able to take part."
Undergraduate Olivia Mackrell echoed Ava's enthusiasm, saying:
"I very much enjoyed the event. My friends and I found it so helpful for contacts, confidence and knowledge of the industry that we want to work in. It was a great experience and most definitely useful."
Praise for the event was not, however, limited to the audience. All our alumni were struck by the enthusiasm of the students, with Alison declaring:
"It was incredibly uplifting to meet so many ambitious, inquisitive and engaging students. The future of the media industry lies in safe hands!"
Ava, Olivia and Alison are amongst the many thousands of alumni and students signed up to Sussex Connect which exists to facilitate conversations, networking and mentoring opportunities within the Sussex community. To sign up, please go to the Sussex Connect webpage.
We are always delighted to hear from those who might be interested in hosting a similar event at their place of work. If this is something that you would like to do, please contact the Alumni Relations team at alumni@sussex.ac.uk.
*First Generation Scholars are students who are either the first in their family to attend university and/or from significantly low income households. Sussex has an award-winning scholarship scheme to support students from Widening Participation backgrounds, which is supported by alumni via the Sussex Fund.