News
Find out about the latest sustainability news at the University of Sussex.
Seize the Switch: Save Energy
By: Martha Knott
Last updated: Wednesday, 16 November 2022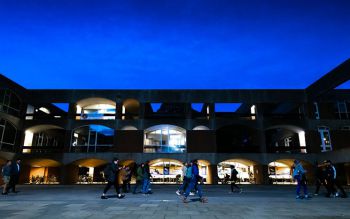 We know that saving energy is on a lot of people's minds right now. With the triple threat of climate change, the cost of living, and risk to energy security, you have told us that you want to save energy and make a difference.
As a university, we are committed to reaching net zero carbon by 2035. We are taking action to achieve this, but to be successful, we all need to work together.
So, we are launching our Seize the Switch campaign to help all of us to make real change – both for the planet and for your energy bills.
To take part, simply join our energy saving discussion by:
making a pledge to reduce your energy use.
sharing your tips - if you already have energy saving nailed, help your community to do the same!
sharing your suggestions for reducing energy use at the University.
So, join the conversation and Seize the Switch now!
Need some ideas for your pledge?
Check out our Save Energy webpage for more information and follow us on Instagram and twitter to see our daily energy saving tips for the next ten days, which we hope will help you form energy saving habits for life.
For tips on saving energy at home, read the Government 'Nudge Unit' evidence-based advice on the most straightforward and effective ways to reduce your energy bills.
What is the university doing to save energy?
To show how serious we are about our continued commitment to reach net zero carbon by 2035, we have joined the UN Environment Programme's Race to Zero campaign. This is a global campaign to rally leadership for a zero carbon and resilient world. You can read about what the University is doing to save energy here.
More ways to get involved in Sustainability at Sussex: