News
Find out about the latest sustainability news at the University of Sussex.
What Next After the COP? event - video and Q&A with our speakers
By: Martha Knott
Last updated: Tuesday, 18 January 2022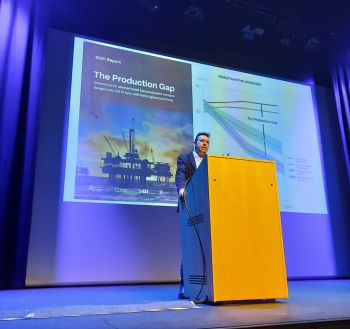 On 11 November 2021, as COP26 reached its climax in Glasgow, the Provost, Rachel Mills, hosted 'What next after the COP?' at the ACCA.
Following an hour of networking, the Provost told us about sustainability work at Sussex, including the publication of our 2021 Annual Sustainability Report. We then heard talks from four of our most prominent academics about their view on the question: 'What Next after COP26?' and what they think we need to do next to tackle the climate crisis.
Running order
Our Provost, Professor Rachel Mills – Sustainable Sussex and our Annual Report
Professor Peter Newell -View from COP – Climate Politics after Glasgow
Dr Marie Claire Brisbois - Climate Coping Strategies
Professor Joe Alcamo - Bringing together the Climate and SDG Agenda
Professor Benjamin Sovacool - Addressing Climate Change – Technology or Behaviour?
Further Q&As from our speakers:
Our speakers received many questions on the night and so have provided answers to some that we didn't have time for:
Question 1: How important is political stability and diplomacy in achieving these climate targets? I.e. the strained relationship between China and the United States
Peter Newell: Domestic and international political stability are important and of course good relations between great powers and major emitters enhance the chances of cooperation. Frankly though, the lack of ambition on the part of both these powers is less a function of their international relations and more their commitments to carbon intensive pathways which many of their political allies are invested in.
Question 2: Is the second [Marie Claire's] presentation realistic. If you look at the loss of coal from the north east UK, 30+ years later communities still live in abject not relative poverty. One thing UK does well is hide its poor.
Marie Claire Brisbois: The closure of coal in the north east took place under very different political conditions. The intention of the Thatcher government in ending the coal industry was to destroy strong and consolidated communities, the associated union movement, and the political opposition that they presented for her social and economic goals. The strategy was very successful and those communities remain disadvantaged. The current approach to ending coal is specifically trying to avoid those outcomes.
The EU Just Transition Fund is targeted at ensuring that affected workers have both support and other opportunities. This doesn't mean that there won't be negative impacts, or that coal towns won't experience significant economic decline and outmigration. However, there is considerable money and attention being paid to try to make sure that this doesn't happen. The research project I presented on is one example of the EU funding research to try to ease the transition for workers and communities. It might not work, but the goals of the transition are very different from what they were for the NE of England.
Question 3: How do we finance these transitions and adaptation? Wealth taxes? Retribution? Or does it have to be more voluntary?
Marie Claire Brisbois: I think we use all of the above. There is certainly a role for voluntary financing and trends toward Community Municipal Investment are demonstrating that there's lots of small-scale private capital floating around that people are interested in using to realise a better world. However, there simply needs to be a redistribution and deconcentration of wealth both to finance climate action, and also to address increasing social instability linked to inequal distribution of wealth, and that requires actions to close tax loopholes, cap executive pay, tax excess wealth, etc.
Question 4: Jacques Fresco had a vision of a better world without capitalism. How do we get there or similar? 200 years of industrialisation will be hard to turn around without a radical change to current politics. We should adapt now.
Peter Newell: I agree we need fundamental changes to the organisation and direction of our economy. This will not happen without shifts in power between states and citizens, capital and labour and the global North and South. Protest and resistance are central to this but so is de-normalising the present state of affairs so that alternatives are seen as viable and attractive- and of course many of them exist on a smaller scale all around the world today.
Question 5: Why has nobody raised the issue of global population growth?
Benjamin Sovacool: They have, and often. Population growth and demographic change are reflected now in almost all future climate, economy, and energy models.
It's also a part of the famous IPAT equation (where the p stands for population growth) used in most climate social science; we even explored this at Sussex in this paper in Nature Climate Change.
Joe Alcamo: Many believe that concerns about population growth have to be balanced against the impact which each person has, and this varies, of course, a lot from country to country. For example, each person in India emits on the average less than 2 tonnes of CO2 per year as compared to the UK where we emit more than 5 and half tonnes each year. So, a large population could be sustainable if we reduce our per capita consumption and impact down to reasonable levels.
Question 6: What can an undergraduate student who wants to do sustainable development do to make a real difference?
Marie Claire Brisbois:
Talk to your friends and family about issues
Join movements or social groups that are asking for change (and that do things that are fun and align with your interests)
Get to know your MP and city councillors and ask them for change on things you care about
Try to live the way you would like to in a more sustainable world (but don't beat yourself up if it's not always possible to bike, eat sustainably, not fly, not buy single use plastic, repair your electronics instead of buying new, etc.)
Train for a career doing things that will make the world a better place – and think about what jobs are missing that would help you to live more sustainably
Spend some time thinking about consumption patterns
Take some undergraduate classes that teach you how to think critically and self-reflexively and then apply this when listening to the news, politicians, your friends, and even your lecturers.

Research ways to increase the well-being of people at the absolute smallest possible impact on the environment and in a way that avoids any inequities to other people. This has turned out to be much harder than it sounds, and it requires contributions from the natural sciences, from the social sciences, and from the humanities. All can and must contribute to cracking this puzzle.
Question 7: What are the top three things that we can do now as a university to facilitate a rapid and just transition to Net Zero?
Benjamin Sovacool: Apart from decarbonizing the campus, which they are doing, the top three things would likely be:
Promote more online distance learning to minimize the environmental footprints of being on campus
Stop serving meat on campus
Have a strict travel policy that seeks to limit the air travel of faculty, staff and possibly students
These are all from a pure "how to stop emissions" perspective, not one that would need to consider other criteria such as fairness, equity, career status, social connectedness, etc.

The Sustainability Team also answered some questions about Sustainability at our University:

Q: If the university is serious about making these commitments, when will they shift the staff pension fund to companies who are not involved in the fossil fuel industry?
A: The University is committed to decarbonising its investments. We have a socially responsible investment policy and are founder signatories of new COP26 declaration for net zero asset management principles. With regards to pensions, the University provides four different schemes, and for which, because of the nature of each scheme, there is a different approach to Socially Responsible Investment and Environmental, Social and Governance matters. For more information about your particular pension scheme and options about the investment of your contributions please contact the HR pensions team.
Q: How do students who care about the climate enter the job market when even Sussex doesn't advertise any sustainability focused jobs?
A: At the time of COP26 there were three roles within the University of Sussex Sustainability Team out for advert. As the number of net zero commitments increase around the world, there can only be a growth in the number of sustainability jobs in the year to come.
Q: There is lots of passing the buck in responsibility (other countries, future gens, organisations, personal) how can Sussex uni and its staff and stakeholders support each other to become regional leader to achieve sustainability?
A: Our Sustainability Strategy sets out our vision in this area. You can get involved in co-delivering the strategy by signing up to be a sustainability champion.
Q: Do you think Sussex claim on sustainability is accurate, LSE this week announced they are carbon neutral? And if you look at their estate's investment level, its huge compared to Sussex. But they do publish a 50m surplus a year.
A: We have a vision of being one of the most sustainable universities in the world. It is an aspiration that we are working towards and understand that further investment will be required by 2035 to achieve our net zero target.
Q: Should we be offering action-oriented degrees to tackle these challenges, education through action?
A: Many of our degrees currently offer action orientated content around tackling climate change. For example, the practical forest food garden module, offered by the School of Education and Social Work. However, we are also carrying out a review of how we can further embed sustainability into all degrees and expect this to result in more experiential and action orientated opportunities to tackle the climate crisis.