Marking with Turnitin
Turnitin is the software used for providing similarity checks, marks and feedback for assessments using the Canvas Turnitin submission route - which is the recommended route for text-based modes of assessment.
Warning! As students can resubmit work up until the deadline you should not begin marking work until after the due date and time as shown in Sussex Direct. You will need to bear in mind any extended deadlines for individual students.
How to find your assessments in Canvas
Note: you can access assignments from the 'To do' list on the right-hand side of your Dashboard. However, please note that by default this will display all submissions using the 'Speedgrader' software - the native Canvas tool for marks and feedback - even if the assessment has been set up to use Turnitin. It is advised that you access submissions via either the 'assignments' or 'grades' page in your modules.
Log in to Canvas and select the module from either the 'Dashboard' or 'Modules' page.
Select the 'Assignments' tab from the module navigation menu.
Select the assignment you wish to review the set of submissions and provide marks and feedback for.

Search for a candidate number (optional)
Select a paper title to open the script in Turnitin Feedback Studio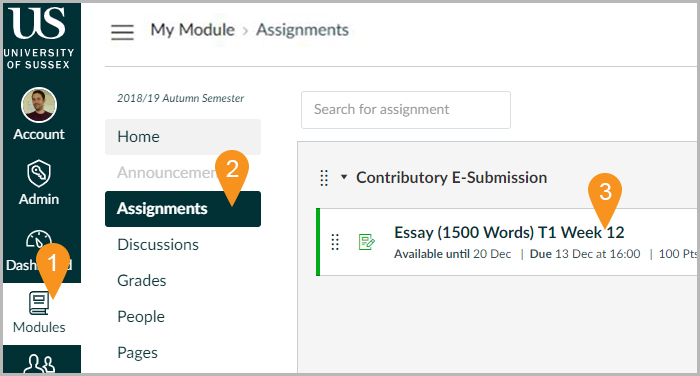 View all marks across module assessments and sort by groups
The 'Grades' link on the module navigation menu will provide staff with a table of candidate numbers and associated grades for all online assessments (both contributory and non-contributory) on the module. Staff can also use this page to filter candidates by marking and teaching groups and as an alternative point to access submissions for providing marks and feedback. Note that marking and teaching groups will only be available for modules which include a coursework assessment.
If you are using the 'Grades' tab to access marking in Turnitin, then please ensure that you use this for access only. Marks should only be entered or adjusted within the Turnitin interface and not the Canvas 'Grades' page.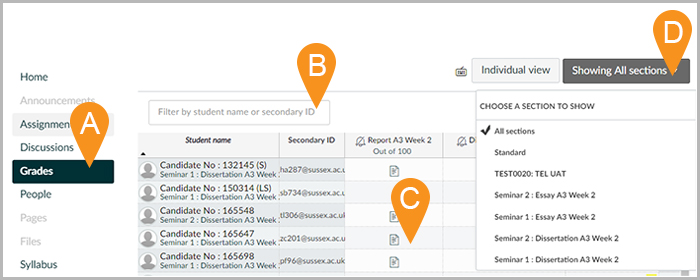 Grades: this will display a list of candidates and their marks for all assessments on a module.
Search: look up candidate numbers and records of specific students.
Table: access students' work directly from the 'Grades' table as a starting point for viewing submissions, providing marks and feedback.
Sections: can be used to filter the table to display records from specific marking and teaching groups which have been set up.
Please note: You should not click on the candidate number displayed under the column 'Student name' in the Gradebook as this will display further student details, including the student's name, thereby compromising anonymity.
Entering marks and feedback
Marking features within Turnitin include options for inputting; a numeric grade, document annotations, summary feedback (5000 characters of text and/or up to 3 minutes of audio feedback), rubric and grading forms which use standardised marking schemes based on assessment criteria.
The following video provides a brief overview of the features which can be used for providing marks and feedback in Turnitin.
Calculating the word-count
Please note that the word-count as displayed in Turnitin is neither consistent or accurate in regards to the University of Sussex policy on what contributes towards the word-count. Please see the following guide for more information - How does Turnitin interpret the 'Word Count' (PDF Guide)
Turnitin Similarity
Files submitted to Turnitin will be checked for similarity using a text-comparison and matching service provided by the software. The results will be displayed in a report which will be made available to both student and marker. Please refer to the guidance on Understanding Turnitin Similarity for more information.
Rubrics and grading forms
This is a feature within Turnitin for creating structured feedback forms based on assessment criteria which are consistent across all submissions to an assessment. Please refer to the following resources for more information:
Academic Development & Quality Enhancement FAQs
The following information, relevant to Turnitin is available from the ADQE e-submission FAQs web page.
Will students see annotations on scripts?
What should I do where a word count has been exceeded?
FAQs for markers