New staff
Welcome to the University and congratulations on your new post. Find out more about starting here and staff induction.
Here's a short video from Sarah Engineer in the Organisational Development Team explaining what you'll find in these New Staff pages:
Staff welcome sessions
All new staff are invited to attend a welcome session within their first year. During this online session you will greeted by a member of the University Leadership Team and have an opportunity to network with other new staff. The welcome session is also an opportunity to learn about our history, our plans for the future and the benefits of working at Sussex.
Please see the box on the right of this page to download the speakers' slides from the last Welcome Session.
New staff will receive an email invitation to their session. Please email us at od@sussex.ac.uk to find out more.
Visit our Networkers' webpage to see what opportunities and facilities are here for you across the campus, with messages from our friendly Welcome Session stall holders!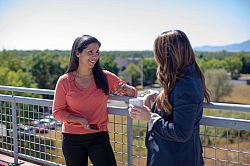 New Managers

If you are a new manager at Sussex, there are a number of additional resources available that we encourage you to engage with. This will not only help you better understand your role as a manager but will also help get to know other managers across the University.
We have a Managers' Toolkit which is a series of online resources and has been created to help managers to be as effective as possible.
Bringing together key policies and procedures we also have a specific Managers' Induction page where as well as a comprehensive Managers' Guide, you can find information on our New Managers' induction and any specific online training you should be completing.
We also have The Sussex Leader. This document aligns to the Sussex 2025 strategy and defines the behaviours and competencies that are expected of our leaders at all levels at the University.
We have now set up a new Managers' Development channel on Teams to encourage learning and support you as managers in your continuous development. If you would like to join, simply follow this link.
Find out more about the benefits of working at Sussex, including information about childcare, housing and healthcare on campus.
Contact us
Organisational Development
Human Resources
Sussex House
E od@sussex.ac.uk
T 01273 606755 ext 4806