Research Staff
Welcome to the Research Staff webpages. They have been designed as a source of practical information, guidance and resources that will be useful to postdoctoral researchers, research fellows and research assistants from all disciplines and at all career stages.
Research Staff Development Series
The programme of development events and workshops specifically designed for postdoctoral research staff and Research Assistants.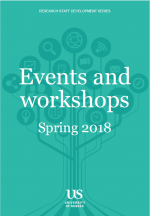 Events run throughout the academic year and are free to all Sussex researchers.
For the full programme click on the current events leaflet or visit our training and professional development web page.
Career Planning Toolkit
This web-based resource is designed to help research staff identify and pursue their career goals. You'll be guided through deciding what you want, assessing your current skills, and developing a plan for further training.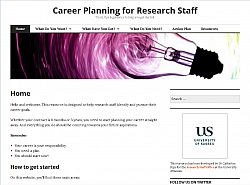 HR Excellence in Research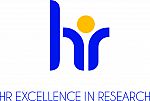 The University of Sussex has been recognised for excellence in supporting researchers demonstrating the importance Sussex places on its research staff. For further information and documentation relating to the award please see the HR Excellence in Research webpage.

Contact Us
E: researchstaffoffice@sussex.ac.uk
T: 01273 877979
Research Staff Office, Research and Enterprise Services, Level 1, Falmer House, University of Sussex, BN1 9QF

@SussexResearchr