As we celebrate our 50th anniversary in 2016, SPRU has embarked upon a new and exciting
phase of deepening its links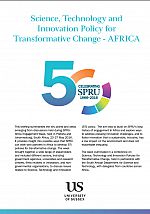 and relationships with countries, organisations, institutions and individuals in Africa as detailed in the 'Science, Technology and Innovation Policy for Transformative Change - AFRICA' leaflet. As part of these efforts, the SPRU-Africa Engagement Week and Conference took place from 23-27 May 2016. The week provided an opportunity for SPRU to work with colleagues, experts, institutions - both public and private, and government agencies based in Africa. The events provided a platform to explore ways to address pressing development challenges and foster innovation that is sustainable, inclusive, friendlier to the environment, and does not exacerbate inequality at the rates that we observe currently.
In partnership with the South African Department of Science and Technology (DST), the activities culminated in a conference on "Science, Technology and Innovation Policies for Transformative Change" held on 27 May 2016 in Pretoria. It was attended by about 80 people, including government officials, civil society groups, business representatives, and SPRU alumni from Ethiopia, Kenya, Namibia, Nigeria, South Africa, Tanzania as well as the UK High Commissioner to South Africa.
Innovation is seen as a key factor in giving African countries an opportunity to develop to their full potential and to conquer the challenges they face. China Central Television Africa made this video report on the conference.
To find out more about the conference please see: Overview of Africa Engagement Week
See also
SPRU's work in Africa
For 50 years SPRU has been involved in various science, technology and innovation policy projects, activities, capacity-building and research collaborations across Africa. This includes; the formulation of Science, Technology and Innovation Strategy for Africa, South Africa's Science and Technology Policy and Consultancy, and Building a New South Africa. Recent work is focused around two core themes and includes:
Science, politics and decision-making
Dr Chux Daniels is currently involved in the implementation, monitoring and evaluation of the 10-year Science, Technology and Innovation Strategy for Africa (STISA-2024). This has involved critically examining STISA'S fit into Africa's broad development strategy, governance issues, funding and roles for citizens in Africa and the Diaspora. See Workshop to discuss the 10-year Science, Technology and Innovation Strategy for Africa . Dr Daniels is also advising the Tanzanian Government Commission for Science and Technology (COSTECH) on finance, research and innovation capabilities. He recently completed a project on Nigeria's national science, technology and innovation policy formulated by the Federal Ministry of Science and Technology, Abuja.
Energy, sustainability and development
Low Carbon Development
Research by Dr Rob Byrne into Solar Home Systems (SHSs) in Kenya was used to provide key policy insights on the transfer and uptake of low carbon energy, and other climate technologies, in Least Developed Countries. The findings provided a detailed picture of the full spectrum of actors, together with the institutional frameworks and events that assisted the uptake of SHSs in Kenya, and will contribute to new policies that ensure more people benefit from using sustainable energy technologies. Dr Byrne has worked with the African Development Bank on its green growth strategy, developing and delivering a training course on energy and climate change for senior managers at the Bank and writing background papers for the Green Growth edition of the African Development Report 2012.
Dr Lucy Baker has worked on South Africa's energy transition since 2009. Between 2013 and 2015 Dr Baker worked as a researcher on the 'Rising Powers and the low-carbon transition in Southern Africa' project, undertaking an in-depth analysis of South Africa's energy policy, including the Renewable Energy Independent Power Producer's Procurement Programme (RE IPPPP) launched in 2011. She has also been involved in comparative research on the energy sectors in Mozambique and South Africa, and a comprehensive study into some of the political and economic challenges to decarbonisation in South Africa's electricity sector published by the Energy Research Centre of the University of Cape Town.
In 2015, SPRU together with the African Centre for Technology Studies (ACTS), African Technology Policy Studies Network (ATPS) and Stockholm Environment Institute Africa (SEI Africa), and the Institute of Development Studies launched the STEPS Africa Sustainability Hub in Nairobi. The Hub, part of a STEPS Global Consortium, aims to develop a pan-African programme of comparative research addressing a range of existing knowledge gaps on low carbon energy access. In addition, it provides training for finance ministries on accessing international climate finance and opportunities to merge climate finance with finance for development agendas, as well as training for African negotiators on strategies for engaging with the UN climate negotiations.
More widely, research at Sussex in the field of low carbon technology transfer and low carbon energy access in developing countries has had significant impacts on the policies, negotiating positions and funding strategies of a range of national and international government organisations, including: United Nations Framework Convention on Climate Change (UNFCCC), World Bank, Asian Development Bank, African Development Bank and the Governments of the UK, India, Kenya and Chile.