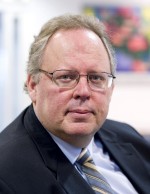 Prof
Ed Steinmueller
Post:
Professor of Information & Communication Technology Policy (SPRU - Science Policy Research Unit, Business and Management, University of Sussex Business School)
Location:
JUBILEE BUILDING 373
Email:
W.E.Steinmueller@sussex.ac.uk

Telephone numbers
Internal:
7155
UK:
01273 877155
International:
+44 1273 877155

Research expertise:
download vCarddownload vCard to your mobile
Biography
Professor
BA, University of Oregon, PhD Stanford University (economics)
Professor Steinmueller has been Professorial fellow at SPRU since 1997. He began his studies in the areas of computer science, mathematics, economics, and Chinese language and history at the University or Oregon and Stanford University. At Stanford (1974-1994), he was engaged in teaching, research, consulting while being a Deputy Director of what is now the Stanford Institute for Economic Policy Research. He was selected for a chair at MERIT at the University of Maastricht, The Netherlands where he developed a Doctoral training school prior to cming to SPRU.
Steinmueller has published widely in the field of the industrial economics of information and communication technology industries including integrated circuits, computers, telecommunications, software and the economic, social policy issues of the Information Society. He has also contributed to research in science policy and the economics of basic research.
Professor Steinmueller has been an advisor to several Directorates at the European Commission, the National Academies of Science and Engineering (US), and the Department of Trade and Industry and Office of Telecommunications (UK).
He established the research group in SPRU called Information, Networks and Knowledge (INK) with Professor Robin Mansell (honorary professor of U of Sussex and Professor at London School of Economics and Political Science) and remains its Director. INK includes members from Freeman Centre (both SPRU and CENTRIM (Centre for Research on Innovation and Management) at the University of Brighton))