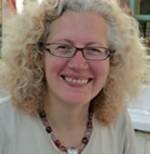 Biography
Marie-Bénédicte Dembour received her undergraduate education at the Université Libre de Bruxelles where she took the five-year licence law degree (1980-1985) as well as the teaching diploma in law (1983-1985). She studied social anthropology at the University of Oxford where she completed the MPhil (1987) and the DPhil (1993). She came to the University of Sussex as a Lecturer in Law in 1991. She was a Jean Monnet Fellow at the European University Institute, Florence, in 1995 and a part-time Leverhulme Research Fellow in 2001-2003. She received a Sussex Excellence-in-Teaching award in 2003. She taught at the Vrije Universiteit Brussels from 1998 to 2003 and on the MA in International Human Rights Law at the University of Oxford in 2009. She gave the Torkel Opsahl Memorial Lecture at the University of Oslo in 2009. She is currently the holder of a Leverhulme Major Research Fellowship (2009-2012).
Role
Professor of Law and Anthropology; Leverhulme Fellow (2009-12).
Marie's scholarship is directly influenced by her double training in law and in anthropology. Her first monograph Recalling the Belgian Congo: Conversations and Introspection (Oxford: Berghahn, 2000) was concerned with the way we remember colonialism. Based on her doctoral research, this study has provided her with an awareness of history and global processes which informs the way she approaches and questions (Western) law. Recently she has mainly been working on human rights, rights as culture (i.e. a cultural way of expressing political claims) and migration. Her monograph Who Believes in Human Rights? Reflections on the European Convention (Cambridge: Cambridge University Press, 2006) is both a commentary on the European Convention and a theoretical reflection on the concept of human rights, which she argues is differently conceptualised in four different 'schools'. She is currently writing a follow up to this book in the form of a monograph provisionally entitled Migrants have human rights too! Critical perspectives on the Strasbourg case law. She is co-editor of Paths to International Justice: Social and Legal perspectives (Cambridge: Cambridge University Press, 2007) which explores international judicial procedures from the perspective of ordinary people. She also co-edited Culture and Rights: Anthropological Perspectives (Cambridge: Cambridge University Press, 2001). She has published over twenty-five articles in academic journals and books.
UG: Human Rights in Theory and Practice; Dissertation
MA/LLM courses: Legal and Policy Aspects of Migration; Migration under the European Convention on Human Rights
Areas of DPhil supervision: human rights; migration; culture and rights; ethnographic studies of legal processes