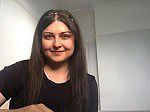 Miss
Merve Arslan
Biography
Merve graduated from the Department of Philosophy with honor degree at Adnan Menderes University in Turkey, in 2010. Her graduation thesis was about 'Citizenship Theory of Kant'. After graduation, she worked as a teacher for a while. In 2014, she applied and won the scholarship from the Turkish Ministry of National Education.
Between 2016-2017, she studied her MA project at the University of Sussex on 'Woman's Freedom in Simone de Beauvoir and Maurice Merleau-Ponty' which was supervised by Tanja Staehler. After receiving her MA degree, she started her Ph.D. project in September 2017. Her research focuses on 'Discursive Bodies and the Role of Unidentified Bodies in Feminist Thought'.
Merve is interested in Feminist Philosophy, 20th century French Philosophy, Body Theories and Phenomenology, Gender Philosophy, Gender and Power Relations, Otherness and its social implications, and Disability.
Role
Research Student