We are keen to do all we can to support our users through this busy exam period. With this in mind, our staff have kindly offered to open early on Sunday. The Library will therefore be open from 11.00am to 7.30pm on Sunday.

We are open all day Saturday until 7.30pm as usual in term time.
New: Search across the Library's physical and online collections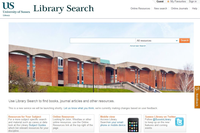 We are getting ready to launch a new service that will provide a single search interface to millions of articles, books and other scholarly content we can provide access to. The search interface is quicker, than the current Electronic Library Quick Search, and will bring back more refined results from a larger collection if items
We are making changes based on your feedback, so please do let us know what you think.

Question of the week
Thanks to all who contributed to the last question about the Core Collection. We had 549 total votes and 77% were in favour of overnight loans.
Library news