Andy Wiseman, 49, graduates today with a first in Art History. But his life started out very differently.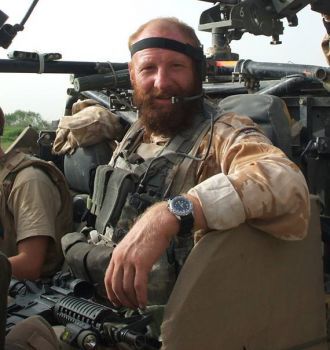 "I'm from a working class North London family with no academic history. I left school in 1984 with no qualifications and joined the Army where I served for 24 years in the Infantry and at Special Duties", he said.
"After that I went into law enforcement – however, I resigned after three years when an injury sustained in Afghanistan meant I could no longer work in a front line role.
"I had no idea what I would do next and figured University would be a good idea – I had always wanted to finish my education formally and the time seemed right."
The need to balance his family's needs with study led Andy to choose the University of Sussex.
He said: "Sussex is a strong University with a great academic ethos."
So after a career spent in defence, where did the desire to study Art History come from?
"History has always been a subject that I found fascinating and I also had a strong interest in the visual arts – combining the two felt like the right thing to do!
"I have always enjoyed visiting museums and galleries, but as well as just viewing the art I was also interested in the social factors that influenced their production. For me the 'why' was just as important as the 'what' – if not more so."
Andy credits his university experience with giving him a fresh perspective.
"It's been a pretty unique experience all round really. I think mixing with young people in general, and the optimism they have has been good for me. Most of my friends are jaded ex-soldiers so getting a really different perspective on life has been interesting, and thought provoking.
"It would be hard to pick a 'stand-out' module; I thought they were all taught professionally. On a personal level I particularly enjoyed a module on the Dutch 17th Century, taught by Maurice Howard, and Geoff Quilley's 'Inhuman Bondage' module, which dealt with art and the issue of slavery, was sensitively taught and quite compelling.
"The stand-out moment for me would be the year two Rome trip, although a week is only just enough to make you realise how much you are actually missing! After all, the recommended length of time for a gentleman to spend on the 'grand tour' was six months!"
---
You might also be interested in: