The School of English is famous for its exciting, innovative and forward-thinking teaching and research. We offer undergraduate and postgraduate courses in:
Literature (English and American)

English Language and Linguistics

Drama, Theatre and Performance.
Excellence in research
We are proud of being one of Britain's most respected places to study English. The quality of our faculty research is shown by the results of the most recent Research Excellence Framework (REF 2014), in which 84% of our research was rated as internationally excellent or world-leading overall. The vitality and sustainability of our research environment also received a score of 90%. These scores are among the highest in the UK. For more information visit the REF website.
English Literature and English Language and Linguistics are ranked 9th, and Drama 7th, in the UK for research quality (The Complete University Guide 2018).
At the Sussex School of English, we like to do things differently. Come and join us and you will be taught by world-renowned researchers, and will be supported by an intellectual community that encourages in-depth knowledge, creativity, and ambition.
Outstanding teaching
At Sussex you'll be taught by passionate faculty who will encourage your originality and creativity. With more than 50 research-active faculty, we are one of the largest English departments in the UK, and offer expertise across over 1,000 years of literary production.
In the past five years, over a dozen members of the School of English have won teaching awards for innovation and student support.
95% of our English and Drama students were satisfied with the teaching in the School of English and 95% were satisfied overall with their courses (NSS 2016).
Exceptional league table rankings
We feature in the top 100 universities in the world for English Language and Literature in the QS World University Rankings.
English:
19th, The Times and Sunday Times University Rankings 2019
16th, The Independent Complete University Guide 2019
19th, The Guardian University Guide 2019
Drama:
2nd, The Times and Sunday Times University Rankings 2019
4th, The Independent Complete University Guide 2019
American Studies:
2nd, The Independent Complete University Guide 2020
3rd, The Guardian University Guide 2019
First-rate career prospects
English at Sussex is ranked 1st in the UK for graduate prospects (The Guardian University Guide 2018, The Complete University Guide 2018 and The Times and Sunday Times Good University Guide 2017).
Drama at Sussex is ranked 3rd in the UK for graduate prospects (The Times and Sunday Times University Rankings 2017).
97% of our English graduates found employment or progressed into the full-time postgraduate study within six months of graduating from Sussex (Destinations of Leavers from Higher Education 2015).
News from English
Sussex Student takes part in Junior Research Associate Scheme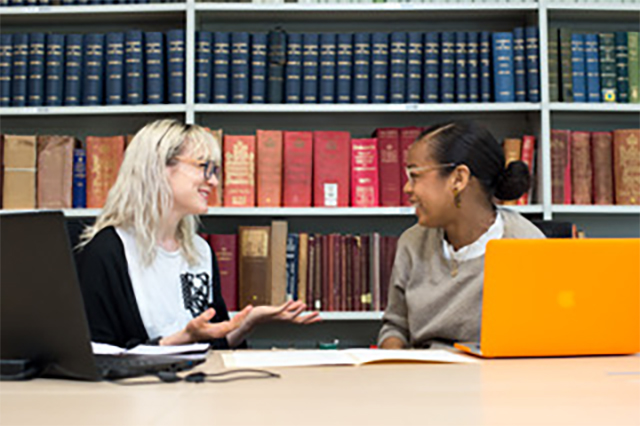 Sinéad Rawson is taking part in the Sussex Junior Research Associate scheme, which is a paid opportunity for undergraduates in their second year to pursue research under the supervision of university faculty.
Sinéad said: "My project is assisting with editing the autobiographical writings of Anna Mendelssohn held at Sussex Special Collections . The project, thus far, has allowed me a compelling insight into the mind of a female poet and activist who has been overlooked for her contributions to experimental writing. Her works explore her time in prison, as well as the treatment of the female artist, activist, and single mother by the authorities and society. Working alongside Prof. Sara Crangle has allowed me to pursue a form of editorial work that I hadn't been exposed to before. The experience has allowed me to further develop my interests in experimental writing, and I'm sure it will benefit my third-year work and future research.
"The editorial work was handed over to me by Isabelle Clarke, last summer's JRA on this project. Speaking to her at the archive was great as she was able to give me a heads up on some of the summer's coming challenges. She also revealed that I would soon find myself adopting some of Mendelssohn's phrases. The moments of discovery, as well as the frequent frustrations, ensure archive work feels fascinating to the point that it often proves difficult to leave. When we met, Isabelle confessed her envy at not being able to re-enter the mind of Mendelssohn for the summer."
Contact us
School of English Office
University of Sussex
Arts B 133
Falmer
Brighton
BN1 9QN


+44 (0)1273 877303