University of Sussex Business School looks into the future to help forge a more sustainable world
By: Francisco Dominguez
Last updated: Friday, 10 September 2021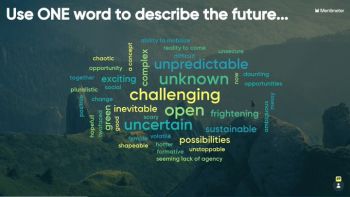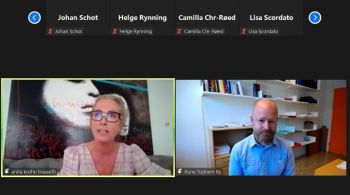 Members of the Transformative Innovation Policy Consortium (TIPC), coordinated out of SPRU, teamed up with national science and innovation agencies from Sweden, Norway and Finland, to launch the first of several workshops on Futures Literacy.
Around 70 participants joined the opening event, delivered in partnership with the Nordic Institute for Studies in Innovation, Research and Education, with representatives from innovation foundations and agencies, research institutes, start-up incubators and intergovernmental organisations, such as the OECD.
A series of café conversations, hosted by Communications Manager, Geraldine Bloomfield, explored how we can use the future in policy learning, the notion of caring for our future in turbulent times and the role of Futures Literacy in leadership and transformative change.
Guests included: Riel Miller, Head of Futures Literacy at UNESCO; Ulrike Felt, Professor of Science and Technology Studies at the University of Vienna; Rune Todnem By, Chairholder of the UNESCO Chair on Leadership, Innovation and Anticipation; and Norwegian business executive and author, Anita Krohn Traaseth.
Later this year, TIPC will host a Futures Literacy Laboratory, in which participants learn to challenge how they construct images about the future and begin to invent new frames. The approach, pioneered by UNESCO, is useful for working on global sustainability challenges, which involve complex, emergent and evolutionary systems.
Victoria Shaw, Programme Director, said, 'This is an exciting development for TIPC, as members will consider how this approach can be used as part of a toolkit to implement transformative policies. The thinking will also enrich TIPC's sister programme, Deep Transitions, which explores a set of radical future scenarios or alternative worlds.'
Steve McGuire, Professor and Dean of the Business School, said, 'The Business School has a tradition of stimulating innovation through multi-disciplinary partnerships with business, academic and policy communities. Futures Literacy is an important tool for shedding lights on the transformations needed across these sectors to combat the challenges of our time.'