Congratulations to Daniel Nightingale – awarded a Junior Research Associate placement
By: Rebecca Bond
Last updated: Wednesday, 30 June 2021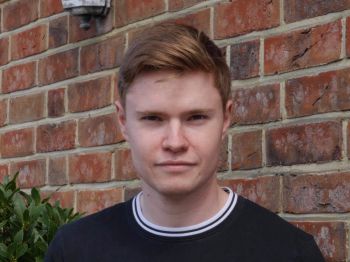 It's that time of year again and the quantum labs have opened their doors to summer students. We speak to undergrad Daniel Nightingale who has been awarded a Junior Research Associate placement in the Quantum Systems and Devices group working on real world applications.
Congrats on being awarded with the Junior Research Associate placement. Tell us what is your summer project about?
I'm working in the Quantum Systems and Devices lab where they are working on Optically Pumped Magnetometers (OPMs) and with plans to make them commercially viable. My project is focused on an automated way to scan the alkali vapour cells that are needed in OPMs to test their suitability to be used. My project will involve some coding of the automated algorithm used for the scanning as well as 3D and circuit design.

This is the second summer running you are working with Quantum Systems and Devices.
It is good to be back in the QSD group and actually be able to go into the labs this year. Everyone has been really helpful and welcoming. Last year I had to work remotely due to the pandemic, but this year my project is lab based. By working from home, I figured out over the last year that I want to get much more hands on.

So, what happen after your degree?
I am considering continuing in research after I finish my degree. This has been my favourite summer project so far and is steering me in that direction.

And finally, what do you love about working in quantum?
I like working in the Quantum Systems and Devices group as it is very applied and has real world applications. The strand of research I am working in focuses on the development of novel quantum sensors that are used for the characterisation and understanding of electric vehicle batteries, as well as advancements in magnetoencephalography, which could lead to the early detection of degenerative brain diseases. The real-world applications and potential for advancements that could have a profound impact on society are what interest me.
Further information: https://www.sussex.ac.uk/research/centres/quantum/