Sussex student to co-host Brighton and Hove's first youth-led breakfast radio show
By: Tom Walters
Last updated: Thursday, 18 February 2021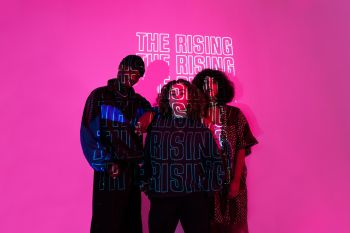 A brand new youth-led breakfast radio show co-hosted by a University of Sussex student is set to launch in what is a first for Brighton & Hove.

The Rising, which launches on 15 February, will be co-hosted by Jordi Carter, a Drama and Film Studies student in the School of Media, Arts and Humanities. He will be joined by former Sussex student Elsa Monteith and Erin James, curator and founder of Tough Cookie Mag.

Produced by Eva Lunny and Bobby Brown and backed by Youth Music's Incubator Fund, The Rising will broadcast live from 9-11am every weekday, bringing new music, current affairs, and local news to the front and centre. Describing the show in its launch materials, it says: "Born out of an unprecedented time, The Rising will wake up the city with optimism, ambition, and a curated selection of untapped global and local talent."

Explaining how he got involved with the project, Carter said:

"I had followed Platform B as a listener for over a year, and when I saw this job being advertised, I took advantage of the chance to apply as I grew up listening to radio back in London and was looking for a new challenge. I am honoured to be a part of this project and what it means for the city of Brighton and the young people who live here.

"It's a very special moment in my creative career, as I have the opportunity to use my platform as a presenter to pass the mic and help to change the game for other young aspiring creatives. The Rising and its presenters seek to represent young people's energy and ambition in Brighton, and I'm proud to be a part of this city's first-ever next-generation breakfast show!"

During a year of radical adjustment and political upheaval, Platform B has pioneered youth-led radio across the city, broadcasting live and pre-recorded shows centering fresh perspectives and original, innovative content. Responding to change in real time, Platform B is the place for those looking for nuanced insight into world events and progress, engaging interviews with trailblazers in society, introductions to up-and-coming tracks and musicians and that daily solo dance in the kitchen.

For further information, to get in touch or to learn more about The Rising, please check out Platform B.

This project is supported by Youth Music's Incubator Fund, thanks to funding from players of People's Postcode Lottery.

Platform B is a Brighton next-generation radio station, broadcasting online since 2016 and on 105.5 FM and DAB across the city since 1 October 2018.