Leukaemia researcher to host virtual Q&As on stem cell donation, with student who received life-saving transplant
By: Stephanie Allen
Last updated: Wednesday, 20 May 2020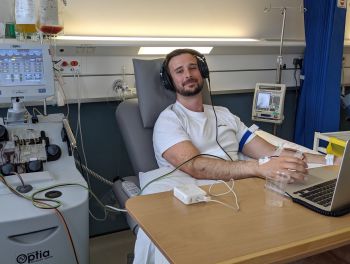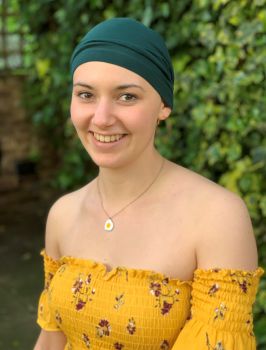 Two virtual events, organised by a University of Sussex researcher, will debunk the myths around stem cell donation, in an effort to encourage more people to join the bone marrow register.
Dr Rhys Morgan, Lecturer in Biomedical Science, has arranged two virtual sessions exploring two perspectives of stem cell donation – donor and recipient.
The first, on Sunday 24 May, will be a Q&A with Alastair Stewart, who recently donated stem cells through Anthony Nolan, a blood cancer charity.
The second, on Monday 25 May, will be with Julia Reinstein, a first-year Life Sciences student at the University, who recently received a stem cell transplant for the treatment of acute myeloid leukaemia (AML).
Dr Rhys Morgan, a leukaemia researcher, sadly lost his brother to blood cancer. In 2016, he was told that he was a potential match to a patient in need of a transplant. He decided to live blog his donation to help raise awareness.
Dr Morgan said: "Since experiencing how simple the stem cell donation process is myself, I've realised the importance of relaying this message to other potential donors. I feel really passionate about stem cell donation so it's important to dispel any myths surrounding the process, and share factual information, so people aren't fearful of the procedure.
"Research has shown that younger donors provide better outcomes for patients and there's a desperate need for more people aged between 16 and 30 to join the stem cell register. University is also an exceptionally good recruiting ground for the bone marrow register because of young healthy individuals with often diverse ethnicity which are often troublesome to tissue match in a clinical setting.
"I think it's really important to have these conversations openly with our students and the public who fit this demographic, particularly now we also have a student who has been on the receiving end of this treatment and is a living testimony to its importance."
According to Anthony Nolan, around 2,000 people in the UK need a match for a stem cell transplant each year.
The events over the bank holiday weekend aim to explain through first hand experiences why stem cell donation is so important, how it works, and what to expect for anyone considering joining the register.
Dr Morgan first connected with Alastair Stewart on Twitter and began swapping messages about arranging a live or recorded Q&A session to talk about the donor experience. Knowing Julia was already keen to speak about her experience in lectures, Dr Morgan decided to pull the two together to provide an overview of stem cell donation from two perspectives.
Julia Reinstein, studying Medical Neuroscience at the University of Sussex, said: "Before being diagnosed with AML, I knew very little about blood disorders, and knew very little about charities like Anthony Nolan and the life-saving work they do.
"It's such an easy process to be added to the registry, it's only a cheek swab, and you might be the perfect match for someone who needs it. I know I'm slightly biased, but I cannot stress how important it is for young people to be aware of how they can help."
Both events will be running live on Zoom from 7-8pm. Find out more, including how to register, here.