University awarded £590,000 to fund new postgraduate conversion courses in data science and AI
By: Rose Wilmot
Last updated: Monday, 1 June 2020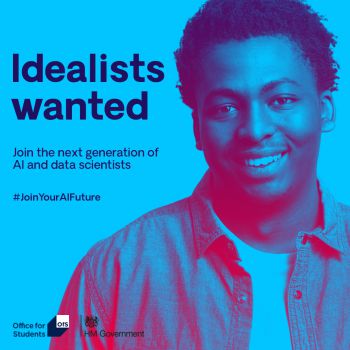 The University has won a share of £13 million of government funding to boost the number of graduates in artificial intelligence (AI) and data science technologies over the next three years.

The University's Department of Informatics has been awarded funding from the Office for Students (OfS), on behalf of the Department for Digital, Culture, Media and Sport; Department for Business, Energy and Industrial Strategy and the Office for Artificial Intelligence.
The funding, shared between 18 English universities, has been made available to stimulate growth in an industry likely to expand rapidly over the next 20 years, when it is predicted 90% of jobs will require an element of digital skills, and for which there is a current skills shortage according to researchers.
The funding will build upon a long history of research into AI and data science at the University dating back to the mid-1960s when cognitive scientist Professor Emeritus Margaret Boden OBE first began her pioneering work into artificial intelligence and creativity.
In the 1970s, government support of AI courses was reduced to all but a small number of British universities, including Sussex. In the 1980s, the University began offering undergraduate degrees with AI as a major component.
Today, the University also has two postgraduate Masters programmes available in Data Science and AI, with around 50-70 graduates finishing each year.
The additional funding will enable the student intake to be increased over the next three years, ultimately doubling the number of graduates produced in this area.
In addition, the money will contribute to the development of a new MSc called Human and Social Data Science. This course will specifically target graduates with degrees in the social sciences, humanities and business, who are keen to develop skills in data science and AI. The course itself will allow such students to continue to take modules from these other schools, ensuring multidisciplinary study throughout the year.
The success of the bid was thanks to the University's commitment to multidisciplinary approaches and to increasing diversity in a field where women, black, Asian and minority ethnic (BAME) and disabled students are still underrepresented.
To explicitly address this, 85% of the £590,000 funding will be spent on student scholarships, specifically for students from these minority groups.
In the first year, there will be ten scholarships available, rising to a total of twenty-five in the third year, each for £10,000.
Dr Julie Weeds, Lecturer in Data Science, said:
"Diversity brings in people with unique sets of skills and mindsets and ultimately boosts creativity. This funding also plays to our strengths of high-quality research and teaching in the area of AI, and likewise in the social sciences, humanities and business, and our ethos of breaking down boundaries.
"This funding award is a credit to the great work we are already doing and will continue to do to widen student opportunities."
The University of Sussex is part of the #JoinYourAIFuture – a national recruitment campaign programme funded by the Office for Students.