New CWEH Activists Blog post: Act now or swim later!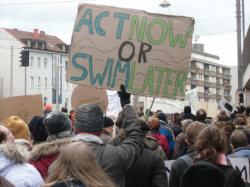 Carol Yong, 4 December 2019
"I visited Venice, for the first time, in November 2017. I took the train, as trains have a fascinating appeal. Not only can one walk about and stretch during a long journey, trains are also very climate-friendly.
In Venice, I saw a few large cruise ships docked in the harbour. Venice is only accessible by pedestrians and this has led to a reduction in carbon dioxide (CO2) emissions. However, the effects of pollution caused by large ships that enter the lagoon is immense. They burn huge amounts of diesel, contributing to CO2 emissions and air pollution. Whilst in dock the ships often keep their engines running to produce power to provide the services and amenities for passengers on board and thus add to further pollution."
---