Medical Research and Life Sciences win Sussexsport's annual Rounders Tournament for the first time
By: Rose Wilmot
Last updated: Tuesday, 10 September 2019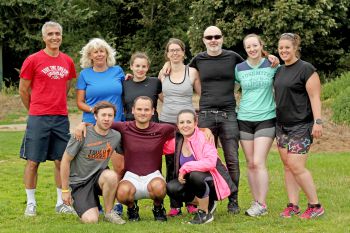 Over 70 members of staff, making up eight combined teams, and two leagues, competed in Sussexsport's annual Rounders Tournament last Wednesday 28 August.
Several departments joined together for the event, which takes place every year at the Falmer Sports Complex.
The weather was changeable, with brief showers and intermittent sun making things a little challenging for organisers and players.
Last year's winners, Life Science's Sussex Drug Discovery Centre (SDDC), who also won in 2017, came third this year after losing by a single rounder to Brighton and Sussex Medical School (BSMS) and Physics. SDDC had struggled to get a team together but did exceptionally well to reach the semi-final, having won all of their matches up to that point.
The grand finale was played between BSMS and Physics vs Medical Research and Life Sciences, and was eventually won by Medical Research and Life Sciences by half a rounder in a gripping showdown.
Captain Matt Bemmett, of BSMS and Physics, had this to say of the event: "It was a really enjoyable afternoon, despite the early rain threatening to dampen the mood! Events like this are a great opportunity to meet other teams and departments from across the University of Sussex and it was lovely to see so many teams attend. Thanks to Ben and the team for organising such a fun tournament!"
The winners, Medical Research and Life Sciences, took home the coveted trophy at the end of the two-hour tournament. Captain of the winning team, Amy Pashler, said:
"Thanks to Ben and the team for organising another terrific rounders tournament.
"We had so much fun, especially with Team Purple and Team Aye, who did try to put us off with the Spice Girls!"
The other teams who took part were:
Business School
Careers and Employment Centre
Commercial Accounts
External Relations
International Student Support
Technology Enhanced Learning
Housing services
Well done to all the teams who took part; we hope you will be back next year!
Event photos can be found on Facebook and a brief slide show is available below.
Quiz Maker - powered by Riddle