Sussex's women's football captain selected for 'once in a lifetime' trip with Santander Universities
By: Rose Wilmot
Last updated: Tuesday, 19 March 2019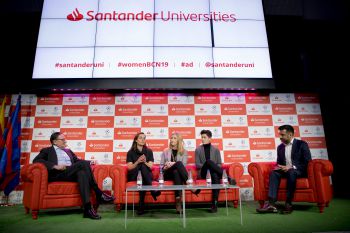 Last week Georgina Wickham, University of Sussex's women's football captain, embarked on a trip of a lifetime to Barcelona's legendary Camp Nou stadium as part of Santander UK's initiative to support female talent in both their sporting and professional lives.
Economics student Georgina was one of a select group of leading footballers from women's football clubs at UK universities who joined a programme of events, tours and training. The programme, organised by Santander Universities, was designed to help build critical thinking and management skills for female talent, both through sporting and wider leadership activity.
The activities kicked off with a panel event on women's leadership, with contributions from Maria Teixidor, Board Director and Company Secretary of Barcelona FC; Laura Ràfols, FC Barcelona; Matias Rodriguez Inciarte, Vice-Chairman Banco Santander and President of Santander Universities; and Susan Allen, Head of Retail and Business Banking, Santander UK. The session was moderated by Manroop Khela, Head of Transformation and CEO's Office, Santander UK.
During the trip Georgina benefitted from a training session with Chapi Ferrer, professional football coach and ex-player of both FC Barcelona and Chelsea FC. In celebration of Santander's sponsorship of the UEFA Champions League Georgina also had the opportunity to watch Lionel Messi, Luis Suarez, Gerard Pique and their Barcelona team mates play in the club's vital round 16 tie against Olympique Lyonnais.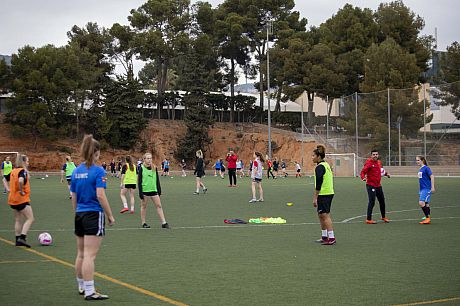 The trip came as a complete surprise to Georgina, who has only recently recovered from a broken ankle, sustained in October 2018 while training with her team. Despite this injury, which doctors said would stop Georgina from playing football for at least six months, she continued to attend training sessions with her club, support coaches in delivering sessions and complete all her duties as team captain.
Speaking of the trip, Georgina said: "It was a once in a lifetime opportunity that I will never forget. I made loads of friends from other unis and it was great to hear about their own respected clubs. It was clear that Santander is very passionate about equality and it was great to see this from a footballing perspective."
Matt Hutnell, Director of Santander Universities, said of the initiative:
"We are thrilled to offer this opportunity to top female football talent from across the UK to help develop their leadership skills. We are committed to supporting higher education and we know that those selected for this programme are equally committed to their sport, investing hours into training, and are an inspiration to their peers both on and off the pitch. We hope the trip will motivate and support female talent with their career ambitions – whether in the world of sport, finance or beyond."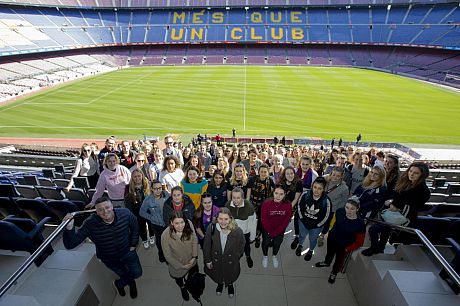 Emilio Botín launched Santander Universities in Spain in 1996, as an effective vehicle for business investment into its communities. The programme now has over 1,200 university partners across 20 countries. Santander Universities UK launched in 2007, encompassing 84 universities and providing over £10m of funding in 2018 alone. The programme focuses on education, entrepreneurship and employability, giving all students the opportunity to succeed.