Exhibition co-curated by Sussex professor takes visitors on musical journey from Soho to Paris
By: Stephanie Allen
Last updated: Wednesday, 8 May 2019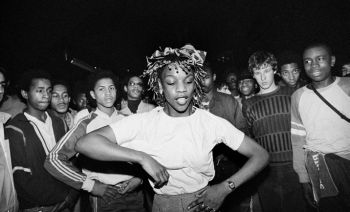 An exhibition exploring how successive generations of immigrants in London and Paris used music to affirm their place in society opens in the French capital today.
Co-curated by a University of Sussex Professor, Paris-Londres, Music Migrations (1962-1989) explores the close and complex relationship between migration, music, anti-racism and political activism.
Running at the Musée de L'Histoire de L'Immigration from 12 March 2019 until 5 January 2020, the exhibition is an immersive exploration of three pivotal decades in the musical history of the two cities.
Professor of Modern European History, Martin Evans, who co-curated the exhibition, said: "This is the first exhibition to bring Paris and London together in this way, examining how both places were transformed in these eras into post-colonial cities where multiculturalism was a cornerstone of their self-identities.
"In tracing theses complex and multi-faceted histories, the exhibition shows how new arrivals in both cities brought new energies and outlooks which have transformed forever the meaning of being a Londoner or Parisian."
Between the early 1960s and the late 1980s, a wealth of musical styles, linked with successive waves of immigration, transformed both Paris and London into multicultural capitals. Young people were turning to music to find and celebrate their identity with influences from rock 'n' roll, pop, yéyé and many more genres.
In Paris, the first generation of immigrant artists sang songs of nostalgia and exile, in some cases associated with pro-independent activism.
Meanwhile, in London, blue beat, rocksteady and ska were all testament to the fruitful collision of Jamaican music with English rock culture.
Paris-Londres Music Migrations, will present over 600 documents and artworks connected with music including instruments, costumes, photos, videos, fanzines and concert posters.
Items have been loaned by institutions including the V&A Museum in London, as well as from the personal collections of many prominent musicians - with a stage outfit worn by the 'father of Afrobeat' Fela Kuti and various creations by designer Jean Paul Gaultier on display.
Photography from James Bamor, Charlie Philips, Pierre Terrasson and Syd Shelton also feature in the exhibition, with each section dotted with installations from contemporary artists.
Adding to the immersive experience, the exhibition will also feature a varied playlist including the reggae punk of Poly Styrene, the ska of Desmond Dekker, the R&B of Soul II Soul, the Asian underground sounds of Asian Dub Foundation, the rumba rock of Papa Wemba, the legendary reggae of Bob Marley and the juju music of King Sunny Ade.
Professor Evans added: "The exhibition encapsulates the Sussex interdisciplinary approach, analysing the relationship between culture, society and politics.
"It shows, too, how global humanities can deepen our understanding of a key contemporary issue, namely migration in an age of renewed populism."
At a time when many European nations are turning inwards and succumbing to the temptations of closed borders, the timing of this exhibition, arguably, could not be more relevant.