University of Sussex brings quantum physics to London's Spitalfields Market
Posted on behalf of: School of Mathematical and Physical Studies
Last updated: Friday, 14 July 2017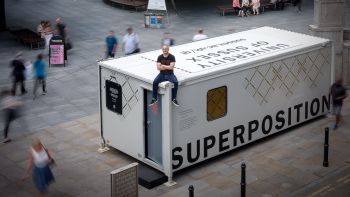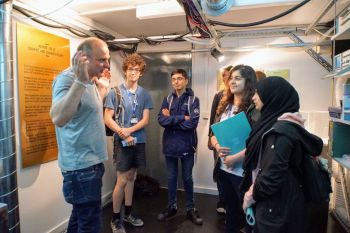 Members of the public have been learning about quantum physics this week at an innovative pop-up lab being run by the University of Sussex at London's Spitalfields Market.
The lab, which was open to the public on Tuesday (11 July), has been created to educate the public about a new quantum computer being developed by physicists at the University.
Visitors were able to see the four key elements that make up this incredible machine, which is set to be the most powerful computer in the world.
Physicists from the University's Ion Quantum Technology (IQT) group, who recently unveiled a blueprint for how to build a large-scale quantum computer, were present to answer questions from the public.
One visitor said: "My five-year-old son loved the exhibits, especially the one where a ping‑pong ball was used to demonstrate how charged particles are trapped."
Another member of the public added: "The lab was fascinating. I really enjoyed finding out what the computers of the future might look like."
The researchers spoke to senior figures from the banking industry, who were interested in how quantum technology might impact on the financial world.
The lab was also visited by a group of sixth-formers from Morpeth School in Tower Hamlets who were interested in studying physics at degree level.
The young people were accompanied by a member of the University's Widening Participation team, who talked with them about their options when choosing a university.
Professor Winfried Hensinger, head of the IQT group, said: "The event was a great success. It was brilliant to be able to speak to such a wide cross-section of society about our plans to build a quantum computer.
"I had some fascinating conversations, there was a lot of excitement and we were able to help people understand this technology that could have a massive impact on our lives in future."
As well as learning more about quantum technology, members of the public were given a taste of what it's like to be inside the IQT team's quantum computing laboratory at the University.
Visitors were treated to a widescreen video projection of the lab, accompanied by an immersive soundscape by Danny Bright, a sound designer and Teaching Fellow in the School of Media, Film and Music.
If you missed the event at Spitalfields Market, you can visit the pop-up lab during the British Science Festival in September, when it will be located at the University's Falmer campus.
If you'd like to leave a comment, enter your ITS username, password, and your comment. The comment may need approval before it is displayed, so don't expect your comment to appear right away.
By submitting a comment you are agreeing to the Acceptable Use Policy.