Obituary: Professor Gabriel Barton (1934 - 2022)
By: Justine Charles
Last updated: Tuesday, 1 November 2022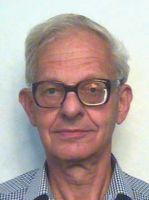 The Department is saddened to learn of the recent death of Emeritus Professor Gabriel Barton.
Gabriel was one of the first theoretical physicists to join Sussex after it was founded in 1961. Not long after completing his DPhil at Oxford, he arrived in 1962 at the instigation of Roger Blin-Stoyle and subsequently spent his whole career at Sussex, where he became an established and influential theoretical physicist. He started out working in nuclear physics, but later on moved to other areas of theoretical physics. His most significant contributions were in cavity quantum electrodynamics where he began working in the early 70s and steadily grew into a world-renowned authority.
Throughout his career, Gabriel's work has been characterised by his rigorous approach to problems. He imparted his thorough style of doing theoretical physics onto his collaborators and graduate students. Many colleagues sought his insight and opinion, and thus his influence in theoretical physics goes far beyond the more than 100 publications he authored or co-authored.
Gabriel also wrote several textbooks, two on quantum field theory and dispersion methods in the early 60s, a to-this-day very well regarded textbook on Green's functions in 1989, and an introductory textbook on special relativity in 1999. He also translated many physics books, mostly from French, which he mastered fluently.
He taught and tutored many students over his long career and always did his best to impart his knowledge and deep insight to his students. Students very much respected his rigour and uncompromisingly high standards.
Even after he retired, he continued to engage with physics and published several papers, the last one in 2016. Declining health prevented him from doing more physics during the last two years of his life.
Gabriel is survived by his wife Jenifer, his children Katherine and Jeremy, and two grandchildren.