Sussex pays tribute to Lord Attenborough, Chancellor of the University 1998-2008
Posted on behalf of: University of Sussex
Last updated: Thursday, 11 September 2014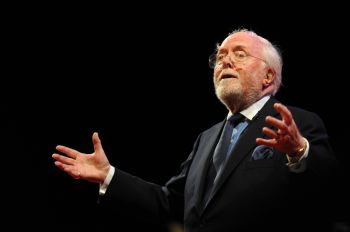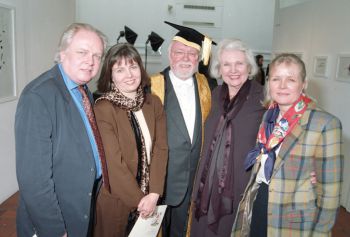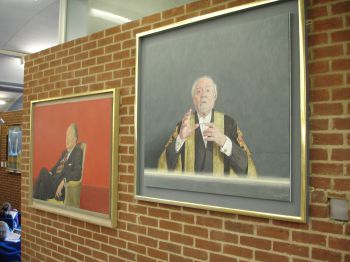 Lord Attenborough, who died on Sunday (24 August 2014) at the age of 90, was one of the University's most ardent and committed supporters for four decades.
Professor Michael Farthing, Vice-Chancellor of the University of Sussex, said: "Lord Attenborough was a great man in all respects. We are so proud that among the many roles he played, one of them was as our Chancellor. We will remember him for his vitality and commitment in supporting the University, for his unshakeable belief in the value of education, and for his immense warmth and kindness."
When he stepped down as Chancellor of the University of Sussex in 2008, after 10 years as its internationally renowned figurehead, the then 84-year-old Oscar-winning film director and actor said: "I have gained so much more than I could possibly give to the University and I am incapable of adequately voicing my gratitude. I will miss you all very much indeed."
His passion for Sussex grew through personal ties with Brighton and a deep-rooted respect for education.
It was in Brighton, in 1947, that Attenborough clinched his acting breakthrough, turning in a menacing performance as a young gangster in the film adaptation of Graham Greene's Brighton Rock. Following two prolific decades of acting, he launched his career as a director with a musical critique of the First World War, Oh! What a Lovely War (1969), and Brighton again provided the backdrop.
During the filming of Oh! What a Lovely War in 1968 Attenborough established his first connections with the University. He contacted Sussex's then Vice-Chancellor, Asa (now Lord) Briggs, to ask whether he could recruit students as extras, to play soldiers being sent off to the trenches.
Lord Briggs recalled: "I had no more power to conscript students to take part in his film than Asquith had to conscript soldiers during the first war, but I knew perfectly well they would all volunteer - and with great enthusiasm."
This seminal link with the University was celebrated in 2003, at a party held on campus to mark Lord Attenborough's 80th birthday - an event that coincided with the release of Oh! What a Lovely War on DVD and which raised £15,000 for student support.
In 1969 Lord Attenborough became Patron of the newly established Gardner Arts Centre on the University campus and his son Michael arrived at Sussex to study English. A keen thespian himself, Michael graduated in 1972 and went on to become the artistic director of London's Almeida Theatre.
Attenborough forged his first formal association with the University when he was appointed Pro-Chancellor in 1970. Familial links were bolstered further the next year, when his daughter Jane came to Sussex to study Sociology.
Jane became an influential arts administrator, but her life was cut short when she, along with her daughter Lucy and mother-in-law Jane Holland, were killed in the tsunami that struck Indian Ocean coastlines on Boxing Day 2004.
At the first Sussex graduation ceremony after her death, Lord Attenborough spoke bravely, declaring: "Today is, importantly, a day of celebration. What happened to my family and hundreds of others should not dent your happiness, sense of achievement and right to enjoy yourselves."
The poignancy of the occasion for the Attenborough family was heightened when Lord Attenborough was called upon to present his son Michael with an honorary degree for his work in theatre, which he dedicated to Jane.
Conferring degrees and doctorates at graduation ceremonies was, of course, one of Lord Attenborough's most important responsibilities as Chancellor. From his appointment to the role in 1998 until his resignation ten years later, he presented literally thousands of awards.
Despite the high turnover of graduands, Lord Attenborough had the gift of making every one feel specially honoured; staff and students alike noted the enthusiasm, warmth and humour that he brought to every graduation event.
What shone through at these ceremonies was Lord Attenborough's passionate belief that education is a world-changing force, which must be made available to as many people as possible.
Education was only one of the causes that Lord Attenborough championed over the years. Somehow he found the time and boundless energy - between acting in, producing and directing more than 70 films - to support numerous charities in the fields of social justice, disability and the arts.
Through his involvement at Sussex, Lord Attenborough became an influential advocate of the Jubilee Scholarship, a funding scheme to help students with severe disabilities gain entrance into university.
He was also a patron of the Mandela Fund, another scholarship initiative, which granted each year the opportunity for one South African student to study at Sussex.
Lord Attenborough's charitable and film work came together in 1989, when his anti-apartheid film Cry Freedom was shown on campus and at a special premiere in Brighton to raise money for the fund.
Even after stepping down as Chancellor, Lord Attenborough continued to act as patron of the University of Sussex Endowment Fund, which helps to support the development of the University. He also became an Honorary Professor of Film at Sussex.
And he was actively involved with work to reopen the Gardner building, which was renamed in his honour; the comprehensively refurbished Attenborough Centre for the Creative Arts will open in 2015.
One of the rooms in the building will be named in memory of Lord Attenborough's daughter, Jane. Commenting on the proposals, Lord Attenborough said: "I am truly excited by the plans for the new centre and hugely touched by the honour the University grants in naming it after my family."
The names of many of Lord Attenborough's former colleagues, friends and admirers are also being written into a typographic oil portrait of the former Chancellor.
Those who have given their name to the tribute and donated to the Centre include: Sir Ridley Scott; Steven Spielberg; Paul Greengrass; Sir Anthony Hopkins; Denzel Washington; Debra Winger; Robert Downey Jnr; Michael Douglas; Sam Neill; Sir Kenneth Branagh; Dame Judi Dench; Sir Ben Kingsley; Dame Maggie Smith; Sir Tom Stoppard; Lord Julian Fellowes; William Goldman; William Nicholson; Universal Pictures; Sony Entertainment; Warner Bros.; Pinewood Studios; MGM Studios; BAFTA; and Chelsea FC.
In 2008, hundreds of staff and guests attended a grand farewell party in Brighton to celebrate Lord Attenborough's decade as Chancellor. After a moving speech by the actor Sir Ben Kingsley about Lord Attenborough's film-making career, there followed the unveiling of a portrait of Lord Attenborough by renowned British artist Bryan Organ.
The acrylic painting depicts an animated Lord Attenborough dressed in his Chancellor's gown. "I wanted it to look as though he were on stage, talking to the students at a degree congregation," explained Mr Organ.
The portrait now hangs in the Library but will be moved to the Attenborough Centre once refurbishment work is complete. It provides a warm reminder of a cherished Chancellor and remarkable man who contributed so much; his indomitable work ethic, professional brilliance and unending generosity set an example that will inspire University of Sussex students and staff for many generations to come.
If you'd like to leave a comment, enter your ITS username, password, and your comment. The comment may need approval before it is displayed, so don't expect your comment to appear right away.
By submitting a comment you are agreeing to the Acceptable Use Policy.