An age of disruption? Renewable energy driving a transformation of the energy sector
Adnan Amin, Director - General of the International Renewable Energy Agency (IRENA)
Introduced by SEG Directors Benjamin Sovacool and Karoline Rogge
20 November 2018
19:00 - 20:00
Fulton B Lecture Theatre
University of Sussex
Clean and low-carbon renewable sources of energy are revolutionizing the energy sector. But how might they impact—and be impacted by—future policies, market trends, innovation patterns and user practices?

Come and learn about the future of the global energy system through the lens of the world's premier organization for renewable energy.
Register on Eventbrite: https://segkeynotelecture2018.eventbrite.co.uk
Find out more about the Sussex Energy Group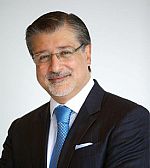 About Adnan Amin
Adnan Z. Amin is the Director-General of the International Renewable Energy Agency (IRENA), currently serving his second term. He has more than 25 years of experience in renewable energy, sustainable development and environmental policy. Mr. Amin joined the Agency in 2010 as Interim Director-General. In April 2011, he was elected as IRENA's first Director-General.
Prior to joining IRENA, Mr. Amin served as Head of the UN System Chief Executives Board for Coordination (CEB) Secretariat, as the Director of the United Nations Environment Programme's (UNEP) New York Office, and as Special Representative of the UNEP Executive Director.
He has also been a Trustee and Member of the Board of Directors of the Cambridge, UK-based World Conservation Monitoring Centre, considered one of the premier biodiversity information institutions in the world. Mr. Amin is a development economist specialising in sustainable development. He is a national of Kenya.