SPRU 18th DPhil Day
Monday 28

and

Tuesday 29

May 2012, Freeman Centre, University of Sussex

Since 1994, doctoral students from SPRU have been organising annual DPhil Days in order to share their research with peers and the academic community within and associated with SPRU. DPhil Day now attracts students from SPRU and its sister institutions in the first, second, or third year of their research programmes. The day is organised entirely by students, with SPRU academic faculty and researchers in attendance.
Integrated programme of events for both days
The distinguishing characteristic of the day is a friendly and relaxing atmosphere where participating PhD students gain a valuable chance to present and receive feedback from peers and senior researchers on their current work. The event invites a number of senior external scholars and existing SPRU research staff to chair student presentation sessions throughout the day, providing diversity and depth of feedback and comment.
The event >consists of two parts, held over two days. The first - DSkills day - includes a range of workshops on useful topics to PhD researchers from senior SPRU research staff and the Doctoral School at the University of Sussex. The second - DPhil Day - provides a platform for current doctoral students to present and receive critical feedback on their research.
The event is free to attend (including delegate lunch and conference meal) but no provision is made for travel and accommodation. We welcome your participation in both or either of the days.
Day 1: DSkills Day
DSkills day is tailored to meet some of the common needs and concerns of Doctoral students and is open to all. But, in order to make the day relevant for existing doctoral students we invite you to make suggestions for topics to be covered in the sessions.
Day 2:
The day provides a platform for new and current PhD students to present their research to a welcoming academic community. Whether you have just decided on your research design, are undertaking field research or searching for conclusions, you will find useful comment and debate here. We welcome your participation.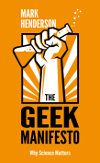 SPRU's DPhil Day Debate: The Geek Manifesto
Don't miss the event 'The Geek Manifesto:should science play a bigger role in politics & policy?', that will be part of DPhil Day. Come and join a public debate, hosted by SPRU, on Tuesday 29 May, 6.00pm-7.30pm (doors and drinks from 5.30pm) at The Freeman Centre, University of Sussex. Panelists include the author of the book Mark Henderson and renowned researchers Laurence Pearl, Melissa Leach, Dr Steven Hill and James Wilsdon.
More information:
www.sussex.ac.uk/spru/newsandevents/dphildays/dphilday2012/geekmanifesto
We are now collecting abstracts of research presentations.
Submissions
Whether you are a conference veteran, or you are yet to submit your first paper, we want your abstract.
We welcome proposals from any discipline on any topic related to the study of Science, Technology and Innovation in Society. The abstracts will be peer-reviewed by SPRU doctoral students and researchers.
Please download and complete the DPhil Day application form [DOC 49.50KB] which provides the email addresss to which the completed form should be sent.
The author(s) will be notified of the decsion by e-mail.

Submission deadline: Monday 16 April
Previous Dphil Days:
Common questions
What's the history of SPRU DPhil Days?
In 1994, SPRU doctoral students organised the first DPhil Day aimed at sharing their research with colleagues and academic staff in SPRU as well as related institutions further afield. Now well established, DPhil Day attracts students from SPRU and its peer institutions in the first, second, or third year of their research programmes. The day is organised entirely by students, with SPRU academic faculty and researchers in attendance.
A
re
overseas
students welcome?
Yes, we welcome and support diversity of perspectives.
If you are a foreign student planning to attend, please let us know about your requirements for visa application. We will try to do our best to help you with your enquiries.
How much does it cost?
Thanks to SPRU this event is totally free. That means that there is no registration cost, and we will try to help you find cheap accommodation.
When will you make the program available?
We are on the process of scheduling and organising the event, so please keep an eye on this page, as it will be updated in the coming weeks.
Why should I attend this event?
The event is a unique opportunity to present your ideas to senior researchers as well as peers in a very friendly environment. PhD research is often at the fore-front of cutting edge research but we rarely have the opportunity to present our work and receive critical feedback so that we may develop it further. Through the presentation of our projects we can encourage peer-to-peer discussion and provide space for critical feedback from established researchers, who often overlook the area. Attending the conference, is an opportunity to enhance your knowledge of the diverse field of Science, Innovation and Technology and network with similar future academics.
Why the name DPhil Day?
A 'DPhil' was the University of Sussex's name for what is elsewhere called a PhD. The University has recently moved to standardise on the term 'PhD', but with DPhil Day having such a strong tradition, and a certain ring to it, the name has stuck.
What to see in Brighton?