A new book by Prof Timothy Foxon – Energy and Economic Growth: Why we need a new pathway to prosperity – examines the dynamics of energy's role in economic and industrial change, the associated ecological challenges, and the need to move towards a more sustainable future.
The book has plenty to offer a non-expert reader looking to gain a better understanding of the connection between their own energy use and global economic and environmental systems as well as being a valuable resource for students, scholars and policy makers with an interest in energy, climate change and economic thinking.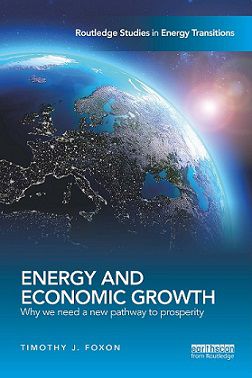 Professor Foxon states:
"We tend to notice energy most by its absence: if there is a power cut and the lights go out; if our car runs out of fuel or if we can't afford to heat our homes. The availability of energy and the services that it provides are vital to the functioning of the modern world and, as this book argues, in helping to drive the growth of goods and services that we have seen in Western countries and increasingly in emerging economies. However, this expansion in the use of energy comes with increasing social and environmental costs, as well as benefits."
Western countries now need to transform their energy systems and move away from the single-minded pursuit of economic growth in order to reduce our carbon emissions, and to allow the environmental space for other countries to develop in a more sustainable way.
The book examines the links between three issues:
The history of energy sources, technologies and uses
The ecological challenges associated with the current dominant economic growth
The future low carbon energy transition to mitigate human-induced climate change
Providing a historical understanding of the relevant connections between physical, social and economic changes, the book enables the reader to better understand the connection between their own energy use and global economic and environmental systems, current issues and future potential, empowering them to ask the right questions of political and business leaders.
Reviewing the book, Professor Peter Pearson (Imperial College London), states:
"In this thought-provoking, readable analysis, Timothy Foxon offers challenging new insights into pathways to more sustainable and prosperous energy and economic systems. He illuminates the complex past and prospective future relationships between energy, economic growth and our environment."
Energy and Economic Growth was published on 17th October 2017 by Routledge, as part of the Routledge Studies in Energy Transitions, and is available for purchase on their website or via Amazon.
Book Launch Event
Thursday 14th December, 6-7.30pm (followed by drinks reception)
Jubilee Building Room 118, Science Policy Research Unit, University of Sussex, Falmer, Brighton BN1 9SL
To be chaired by Prof Johan Schot with Prof Carlota Perez as a discussant.
Copies of the book will be available to buy with an exclusive 20% DISCOUNT for everyone attending the event.
Reserve your free ticket on Eventbrite