SPRU researchers interested in the future of the food system had an opportunity to hear the views of members of the public on a range of related issues at an event hosted in partnership with the Science Museum in London. Taking place at the Science Museum on 23 September it was the first in a three part series organised as part of a new partnership agreement between SPRU and the Science Museum. The events provide an opportunity for members of the public interested in contemporary science issues to exchange views with SPRU researchers and help inform future research.
Professor Erik Millstone, SPRU's senior expert on food and agriculture policy opened the discussion and explained that when it comes to food policy there are multiple, contested views and there is no consensus to be had. The SPRU team were keen to hear how members of the public think policy makers should grapple with problems such as obesity, unsustainable diets and to consider the implications of a future BREXIT deal on both consumers and producers. Participants rotated on four different tables, each asking an overarching food policy question to build awareness of different aspects of the food system. Questions included:
How will Brexit impact UK farmers?
Should we be growing more food underground?
How can the government best respond to the rising obesity problem?
What is the impact of our food system on climate change?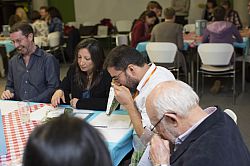 An opinion shared by many participants was the importance of education at school on nutrition, healthy diets and food production. Participants reflected that the "public" attending are most likely already engaged or interested in food issues, so they are not necessarily representative of society as whole. However, Professor Millstone commented that the views of those attending were coherent with general public opinion on, for example the issue of obesity where it is often assumed that the problem was one that had to be addressed at the level of individual consumers rather than seeing it in terms of larger features of the agriculture and food system. This is a challenge and one that SPRU takes up in its research in this area.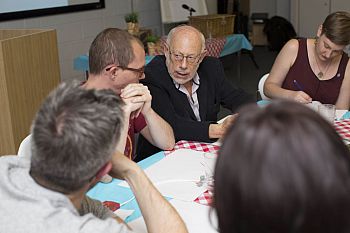 Overall, Professor Millstone concluded that public engagement is very important for academics, especially those at SPRU. He pointed out that 'it is important both for us to share our understandings with the wider public not just professional policy makers and policy commentators, but also to listen to citizens and take into account their understandings, their perceptions, their interests and their agendas'.
There will be two further workshops:
You can sign up for these workshops for free on the Science Museum website.