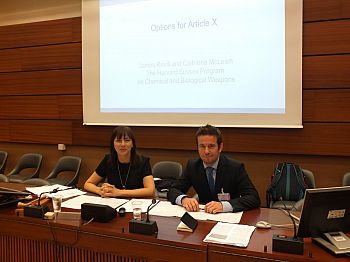 On August 11th 2016, Drs James Revill and Caitriona McLeish presented a briefing paper on the topic of Article X of the Biological Weapons Convention (BWC) at a side-event during the Preparatory Committee for the Eighth Review Conference in Geneva. This article of the convention, which deals with international cooperation, has become increasingly divisive, and the presenters outlined the origins and evolution of such division before identifying concrete proposals for States Parties to consider at the BWC Review Conference in November of this year.
The side event, which drew some 50 participants from governments and civil society, stimulated a lively discussion with the involvement of representatives of several states including: France, Georgia, Germany, India, Japan, the Russian Federation, the UK and the US. The event drew on elements of a joint project on Understanding Biological Disarmament between Professor Brian Balmer of UCL Science & Technology Studies Department and Caitriona Mcleish of SPRU and was funded, in part, by the UK Arts and Humanities Research Council (AHRC).
The briefing paper is in the process of being converted into a lead article in Trust and Verify with Dr McLeish subsequently discussing Article X further at an EU Regional Outreach Workshop in Preparation for the BTWC held in New Delhi, India at the end of August.
This work feeds into a long standing body of policy focused work undertaken by the Harvard Sussex Program (HSP), an inter-university collaboration for research, communication and training in support of informed public policy towards chemical and biological weapons.