A marvellous start to SPRU's 50th anniversary year with launch event and the Marie Jahoda Annual Lecture.
What a great start to a year of celebratory activities with standing room only on 4 February at the official launch of SPRU's 50th anniversary year and the Marie Jahoda Annual Lecture delivered by Professor Dani Rodrik, of Harvard University!
Founded in 1966 by Christopher Freeman, a pioneer of what is now known as innovation studies the audience was reminded that SPRU was one of the first interdisciplinary research centres in the field of science and technology policy and management.
At the launch event, SPRU Director, Professor Johan Schot gave an overview of SPRU's history emphasizing that much of the success of SPRU is down to its people, both past and present members, supporters and collaborators who have helped shape SPRU and make it what it is today. Some 600 academics have worked at SPRU, producing over 9000 publications and teaching some 1000 students at Masters level. What binds all these people together is an interdisciplinary approach to problem solving and a shared culture - not just to study the world but to change it for the better.
Professor Schot went on to highlight three main ways in which SPRU has been shaping innovation – by pushing the frontiers of knowledge through rigorous academic research, training the next generation of scholars and practitioners in science and technology policy and management, and research impact, through co-producing knowledge and sustained engagement with stakeholders.
Current and long standing members of SPRU, Prof Ben Martin and Prof Gordon MacKerron, then outlined two big SPRU ideas that have continued to shape innovation research and policy over the past 50 years; national systems of innovation and thinking on nuclear energy and climate change. This was followed by presentations from the younger generation of SPRU, Dr Caitriona McLeish, Dr Matias Ramirez and Dr Karoline Rogge on current SPRU thinking that may shape the future of innovation research and policy. This included policy-mixes for sustainability transitions, inclusive innovation and rethinking security.
Prof. Schot also announced that as part of the 50th year SPRU is launching a scholarship funding campaign to enable a future generation of students around the world to benefit from SPRU MSc programmes. For every £5,000 raised from donations, the University will match it by another £5,000 to create a £10,000 scholarship. For every £10,000 pledged for a named scholarship, the University of Sussex will match to create two scholarships.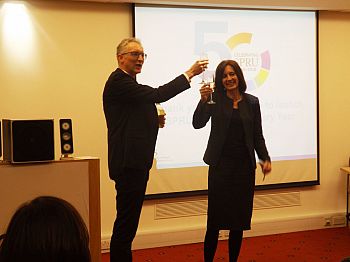 The event concluded with a reception and a toast, jointly made by Prof Schot and Prof Melissa Leach on behalf of IDS which also celebrates 50 years in 2016. It was an opportunity to remind participants of the collaboration that has always existed between SPRU and IDS.
Following the launch, it was a delight to welcome Professor Dani Rodrik, one of the greatest current thinkers on globalization and economic growth to deliver the special 50th anniversary Marie Jahoda Annual Lecture.