A new book from Professors Mariana Mazzucato and Michael Jacobs – Rethinking Capitalism: Economics and Policy for Sustainable and Inclusive Growth – offers a powerful challenge to mainstream economic debate and sets out new ideas to transform it.
The book was launched at the University of Sussex on Wednesday 12 October 2016 (Jubilee lecture theatre, 17:00 – 19:00). Co-hosted by the Schools of Business, Management and Economics, Global Studies and the Institute of Development Studies, speakers included Mariana Mazzucato and Michael Jacobs, Steve McGuire, Melissa Leach, Carlota Perez and Stephany Griffith-Jones, followed by a Q&A. View the event Storify and listen to a full recording below.
Rethinking Capitalism full audio recording
The University of Sussex launch followed a number of other successful events organised around the book, at Birkbeck and UCL, the Labour Party Conference, the Institute for New Economic Thinking (Budapest) and at the European Committee of the Regions (Brussels), where Professor Mazzucato met with the EU Commissioner for Research, Science and Innovation, Carlos Moedas (pictured right).
Professor Mazzucato also gave a talk at the Bristol Festival of Ideas on 15 November 2016, and a Ralph Miliband Programme lecture at LSE on 30 November 2016.

Writing in the Guardian ahead of the book's publication, its co-editors said:
Markets are not external forces that bind firms to inevitable choices. They are created by the decisions made inside private and public institutions, as well as pressures from civil society. So not only can policymakers fix 'market failures', but they can also actively reshape and create markets for better ends.

Globalisation and technological change create huge challenges for modern economies, but they are not uncontrollable forces of nature. The economy we have is the economy we choose to build. It is time to make different choices, and show that capitalism can be remade.
The book, published on 22 July by Wiley Blackwell, is a collection of chapters by a number of prominent economists including: Nobel Laureate Joseph Stiglitz; the Bank of England's Chief Economist Andy Haldane; Bernie Sanders' key adviser Stephanie Kelton; Colin Crouch; Carlota Perez, Mariana Mazzucato and others. The publication focuses on the challenges facing developed economies and the limitations of orthodox economics in understanding these and guiding policy.
Each chapter shows how today's deep economic problems reflect the inadequacies of orthodox economic theory and the failure of policies informed by it. The book's contributors examine a range of contemporary economic issues, including fiscal and monetary policy, financial markets and business behaviour, inequality and privatisation, and innovation and environmental change. Chapters are as follows: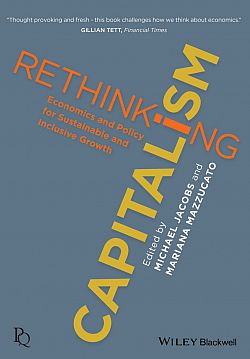 1: Rethinking Capitalism: An Introduction (Michael Jacobs and Mariana Mazzucato)
2: The Failure of Austerity: Rethinking Fiscal Policy (Stephanie Kelton)
3: Understanding Money and Macroeconomic Policy (L. Randall Wray and Yeva Nersisyan)
4: The Costs of Short-termism (Andrew Haldane)
5: Innovative Enterprise and the Theory of the Firm (William Lazonick)
6: Innovation, the State and Patient Capital (Mariana Mazzucato)
7: Investment-led Growth: A Solution to the European Crisis (Stephany Griffith-Jones and Giovanni Cozzi)
8: Inequality and Economic Growth (Joseph Stiglitz)
9: The Paradoxes of Privatisation and Public Service Outsourcing (Colin Crouch)
10: Decarbonisation: Innovation and the Economics of Climate Change (Dimitri Zenghelis)
11: Capitalism, Technology and a Green Global Golden Age: The Role of History in Helping to Shape the Future (Carlota Perez)
Rethinking Capitalism has received positive reviews from Will Hutton, James Galbraith and Nicholas Stern, with Gillian Tett (Financial Times) describing it as "thought provoking and fresh - this book challenges how we think about economics." She writes:
We badly need fresh thinking in the world of economic policy making today - and this book offers a plethora of provocative ideas. It tackles numerous sacred cows in a lively and provocative manner and challenges our assumptions. It is thus a very valuable and welcome contribution to the current debate about why so many western economies have performed poorly since the great crisis.
Professor Mazzucato comments: "The book is highly relevant to the debates occurring ahead of the US presidential campaign and to those occurring across Europe on weak growth, secular stagnation, and increasing inequality."
Further information:
Order Rethinking Capitalism: Economics and Policy for Sustainable and Inclusive Growth on the Wiley Blackwell website, using the discount code on this flyer.
Read the book's introduction for free, as a PDF download.
View the University of Sussex Rethinking Capitalism launch event Storify.
Download the full audio recording (55MB) of the University of Sussex Rethinking Capitalism launch event (right-click link & Save As)
Read Mariana Mazzucato and Michael Jacobs' article in the Guardian: If Theresa May is serious about inequality she'll ditch Osbornomics.
Watch Mariana Mazzucato's recent appearance on Newsnight, discussing Theresa May's new economic agenda.
See further information about the book on Mariana Mazzucato's website.
Rethinking Capitalism book launch