Innovation is increasingly said to be vital for responding to global challenges like sustainable development. Often overlooked, however, is the fact that networks of community groups, activists and researchers have been innovating grassroots solutions for social justice and environmental sustainability for decades.
A new book, Grassroots Innovation Movements (Routledge, 2016) examines six such movements from India, South America and Europe. Unencumbered by disciplinary boundaries, policy silos or institutional logics, these 'grassroots innovation movements' have identified issues and questions neglected by formal science, technology and innovation organizations.
The book explores their historical background, how the movements see innovation and development differently, and the challenges and limitations they have faced. With mounting pressure for social justice in an increasingly unequal world, policy makers are exploring how to foster more inclusive innovation. In this context, grassroots experiences take on added signficance.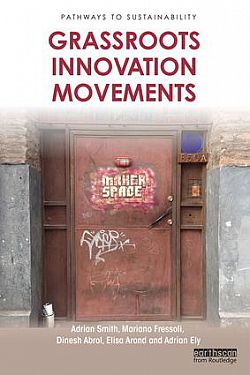 Published in the ESRC STEPS Centre's Pathways to Sustainability book series, the book is a collaboration between an international team of authors: Adrian Smith (SPRU, University of Sussex, UK), Mariano Fressoli (Fundación Cenit and STEPS America Latina), Dinesh Abrol (Institute for Studies in Industrial Development, India), Elisa Arond (Clark University, USA) and Adrian Ely (SPRU, University of Sussex, UK).
Read the book
Download the Accepted Manuscript of Chapter 1 (pdf, Open Access)
Buy the book from Routledge (20% off with code FLR40)
Dialogue session at SPRU 50 conference
Grassroots Innovation Movements will be launched with a special Dialogue Session on Wednesday 7 September at the SPRU 50th anniversary conference. Entitled 'Transforming Innovation from below? Grassroots action for sustainable developments', the panel features contributions from Adrian Smith, Judith Sutz, Amber Meikle, Dinesh Abrol and Mariano Fressoli.
Six stories of innovation
Read about the six cases explored in the book Grassroots Innovation Movements.
The movement for socially useful production (UK, 1976–1986)
The movement for socially useful production emerged in the context of economic decline and loss of manufacturing jobs in industrial communities in the UK. It involved an unusual mix of engineers, workers and activists, and arose out of a combination of diverse social movements, including grassroots trades unionism, peace, community activism, radical science and, to a lesser extent, environmentalism and feminism. Activists both provided a critique of the existing institutions for innovation in society and developed a set of practical initiatives that anticipated more directly democratic processes for socially shaping technologies.
The appropriate technology movement (South America, 1970s and 1980s)
During the 1970s and 1980s appropriate technology become a worldwide grassroots innovation movement that sought to redefine technology as a tool for development. In South America appropriate technology emerged in a context of social upheaval between the challenge of political repression and the influence of new forms of activism and participation. The movement was able to develop its own local networks, technologies and to reframe appropriate technology ideas in a more suitable way for the needs of the region, as well as pioneering activities that would outlast the movement in areas such as agroecology.
The People's Science Movement (India, 1960s to present)
The People's Science Movement (PSM) in India emerged from various popular science movements appearing from the late 1960s onwards. It emerged from discussions between scientists, technologists and civil society organizations that centred on the potential for upgrading traditional techniques through the application of science. Particular attention was and is paid to the development of the 'social carriers' of innovations for inclusive local development.
Hackerspaces, fablabs and makerspaces (international, 2000s to present)
Hackerspaces, fablabs and makerspaces are community-based digital fabrication workshops providing innovative spaces where people come together to learn about and use versatile digital design and manufacturing technologies. Some spaces are run voluntarily, while others receive institutional support (e.g. from universities and libraries), but all share an ethos towards making skills and tools freely available to the wider public, so that they can participate directly in design and making activities. Nowadays, workshops constitute a global network and they can be found in many major cities around the world. Many of them network and share projects and knowledge through social media and meet physically at international events.
The Social Technology Network (Brazil, 2000s to 2012)
Originating in Brazil in the early 2000s and suspended in 2012, the Social Technology Network (STN) involved a range of participants, from academics to activists, unions, government representatives, funding agencies and, especially, NGOs and community groups. The STN fostered processes of social inclusion, public participation and income generation by putting community development activities at the centre of developing new, inclusive capabilities in science and technology development. The STN had as its main aim fostering a more democratic process of innovation for development by turning isolated initiatives into broader public policies and application, with attention to income generation and social inclusion for the poorest among the population.
The Honey Bee Network (India, 1990s to present)
The Honey Bee Network (HBN) emerged in India in 1989 among a group of scientists, farmers, academics and others interested in documenting and disseminating traditional knowledge and local innovation in local languages. They focused on ensuring that the individual innovators would receive benefits from their local ingenuity. The HBN views grassroots innovation as invention and innovation coming from the grassroots, often among people with little formal training and reliant on local, traditional or indigenous knowledge. The network's main activity is the scouting and documentation of innovations and traditional knowledge based on different actions such as visiting communities, interviews, awards and competitions. A second step is related to the exploration of the commercial potential of products and processes identified during scouting.
Further reading
For papers, blog posts and video about this topic, see the STEPS Centre website: Grassroots Innovation: historical and comparative perspectives