A new briefing paper provides information on how local organisations can accelerate progress towards sustainability in a social inclusive manner.
Written by SPRU Research Fellow, Dr Rachael Durrant and based on research conducted with Dr Florian Kern and Professor Gordon Mackerron, the briefing outlines how the Brighton and Hove Food Partnership (BHFP) is breaking new ground both locally and in the wider national context by accelerating progress to sustainability within the city region of Brighton and Hove in a number of ways, such as through local engagement with policy makers, supporting smaller initiatives and employing an integrated community approach.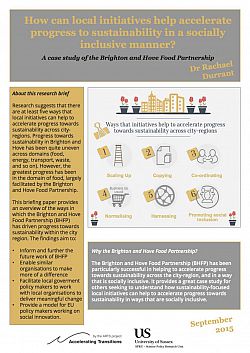 BHFP is currently being hailed as an exemplar for other UK cities under the Sustainable Food Cities Network, and these cities are being encouraged to emulate its best achievements.
The briefing provides a case study of the Brighton and Hove Food Partnership, outlines and analyses six strategies for success, and thus provides a model for similar organisations and policy makers.
The briefing stems from the researchers' work under the ARTS project (Accelerating and Rescaling Transitions to Sustainability), which investigated what makes Brighton a frontrunner city-region in terms of sustainability, and how progress to sustainability is being achieved by local initiatives. Through this project, the team conducted 28 interviews in connection to 11 local initiatives, including the Brighton and Hove Food Partnership. They also reviewed existing academic research on relevant aspects of the local, UK and European political landscape, conducted desk-based research, participated in local meetings, and conducted informal interviews to find out about over 70 other local initiatives.
In general, the research finds that progress towards sustainability in Brighton and Hove has been quite uneven across domains (food, energy, transport, waste, etc). The greatest progress has been in the domain of food, largely facilitated by the BHFP. The BHFP stands out as being particularly successful both in terms of helping to accelerate progress towards sustainability across the city-region, and in terms of doing this in a way that is socially inclusive.