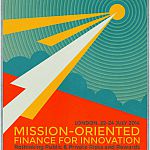 This week, Vince Cable, Andy Haldane and Adair Turner are among the keynote speakers at a major international conference, organized by Professor Mariana Mazzucato, R.M Phillips Professor in the Economics of Innovation, SPRU.
The conference will challenge conventional thinking about the role of the state in driving the innovation needed for sustainable, inclusive growth. In the era of the fiscal compact and austerity, in which the state is being told to step back and to think little, the conference challenges states to think big - as big as putting a man on the moon in the past - in order to address the major challenges facing society today.
The Rt Hon Dr Vince Cable MP, Secretary of State for Business Innovation & Skills, who will make a keynote address on the opening day of the conference said: "Innovation is a critical engine of the real economy. To persuade the public of the need for long-term investment in innovation, we must – as Professor Mazzucato has done – demonstrate the central role played by the state in driving technological progress and putting the economy on a more sustainable footing."
Based on her recent research, summarized in her book The Entrepreneurial State, and in the conference policy brief, Building the Entrepreneurial State, Professor Mariana Mazzucato will speak on how an active investment strategy that produces long-term committed finance, and courageous and targeted innovation investments, is vital to a mission-oriented approach.
Mariana takes the view that, "We have focused on fixing finance, while leaving the 'real' economy as sick as before. This is setting up the next bubble. Financial reform and innovation policy must go hand in hand because innovation requires more long-term committed finance, and a de-financialized private sector. We should not just talk about 'eco- systems' of innovation, but specify concrete ways to make those eco-systems more symbiotic and less parasitic."
Several members of SPRU will speak at the conference. Director of SPRU, Professor Johan Schot will be in conversation with Paul Mason, Channel 4 News, on the subject of the finance, value and innovation over the long term, and Professor Andy Stirling, Mr Caetano Penna, Honorary Professor Carlota Perez will be involved in panel debates on a range of issues; from finance for smart and inclusive growth to the state as a shaper and creator of the market.
The conference brings together politicians, policy-makers, academics, business and banking leaders across seven countries to think big about what the state can do in key areas to nurture innovation led growth that is both 'smart' and more 'inclusive', socializing not only risks but also rewards.
Other speakers will include Luciano Coutinho (President, BNDES, Brazil), Shiva Dustadar (Head of Innovation, European Investment Bank), Arun Majumdar (Vice President of Energy, Google, USA) and Kit Malthouse (Deputy Mayor for London).
The conference runs from the 22-24th July 2014. You can join in the conversation on Twitter using #MOFI2014 and follow @SPRU and @MazzucatoM for live tweets throughout the conference.
For more information, please see:
'Mission-Oriented Finance for Innovation' (MOFI) 2014 Conference Programme
'Mission-Oriented Finance for Innovation' (MOFI) 2014 Press Release
'Mission-Oriented Finance for Innovation' (MOFI) 2014 Book of Abstracts
MOFI 2014 Policy briefs: