Our world faces big questions: What role should science and technology play in society? How to address climate change? How can we ensure sustainable and fair economic growth? These questions, and many more like them, do not have simple answers.

"Those who will take up our field of study in the future will do so because they are motivated by our 'good news' about the possibility of achieving a better world. The 'good news' that we have to offer is not a blind faith in the value of innovation, but a critical appreciation that the choices that we make determine the road that we will follow."
Prof Ed Steinmueller
SPRU

Understanding these questions requires an understanding not just of science and technology, but also of their role in society.
At SPRU we realise that these issues will not be solved by only one discipline but by researchers from different backgrounds working together to gain deeper understanding of these pressing issues.
We transfer our different approaches into a high-quality MSc and Phd offering. These provide a common set of intellectual foundations that will provide you with a unique set of skills required to analyse and understand complex problems.
As a SPRU student you will have access to world-leading experts who draw upon economics, sociology, policy, management, political science, engineering, law, the natural and life sciences, and history to address these big issues.
New Director of SPRU: Professor Johan Schot
Technology historian Professor Johan Schot has been appointed as the next Director of SPRU – Science and Technology Policy Research at Sussex.
Professor Schot has been Professor of History of Technology at Eindhoven University of Technology for the past 14 years. He will join SPRU on 1 January 2014, when he will take over from Professor Gordon Mackerron, who is retiring after five years as Director.
Financial Governance for Innovation and Social Inclusion
International economists considered the pressing need to re-shape and re-orient financial institutions towards innovation and social inclusion at this SPRU, Ford Foundation and MINDS workshop on 25-26 November.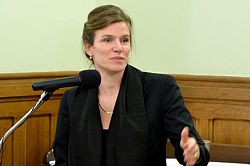 Contact
SPRU - Science and Technology Policy Research
Jubilee Building
University of Sussex
Falmer, Brighton
BN1 9SL
E spru@sussex.ac.uk
T +44 (0)1273 686758