Universities of Ghana and Sussex launch Strategic Fund
By: Peter Boddy
Last updated: Thursday, 7 November 2019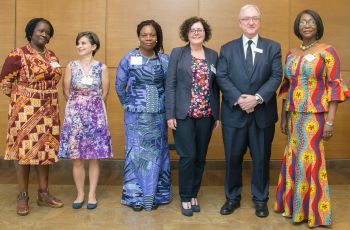 The University of Sussex and the University of Ghana have announced a new Strategic Fund to support staff mobility, with the aim of pooling resources to develop joint research with global impact, advance innovative teaching and internationalise professional services.
The fund builds on the successes of existing collaborations with the University of Ghana, which is the oldest and largest university in Ghana, the leading university in West Africa and one of the foremost research institutions on the African continent.
In addition to many individual links, a number of Sussex research centres already work in partnership with the University of Ghana, including the Sussex Africa Centre, Sussex Centre for Migration Research, Centre for International Education, the STEPS Centre, and the Institute of Development Studies.
The Sussex-Ghana Partnership on Improving Basic Education Systems in Africa was praised by former UN Secretary General Kofi Annan as a model for building regional centres of excellence. It has given rise to a successful international conference series, ICERDA, teacher education programmes, collaborative research and academic exchange.
Sussex and Ghana also work together on undergraduate research training, summer schools and study tours. In 2016, the two universities co-hosted a high-profile panel discussion on Global North-South HE Collaboration in partnership with the Ghanaian Ministry of Education and the British Council.
Professor Michael Davies, Pro-Vice-Chancellor (Research) at Sussex, said: "This agreement opens the door for colleagues at both Sussex and Ghana to build on the strong relationships that already exist. It is my hope that it will lead to high-quality research with global impact, as well as pioneering educational opportunities for students."
Staff from both universities can apply to the Fund, which opens for applications on 27 January. Further details of eligible activities, the application and the review procedure are available on the International Partnerships Development Fund site.