ISIS attacks on Kobane and their effects on the region
Dr Kamran Matin was invited to speak in a conference on 'ISIS attacks on Kobane and their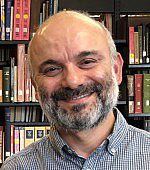 effects on the region" in European Parliament. The conference was organised by the Confederal Group of the European United Left - Nordic Green Left, and the Kurdistan National Congress (KNK).
The conference, at which PYD Co-President Salih Muslim spoke, was opened by Gabriele Zimmer, the leader of the Left Group, Green MEP Bart Staes and Adem Uzun from the Kurdistan National Congress.
Left Group MEP Marie-Chiristine Vergiat chaired the event, at which a presentation entitled "Why Kobanê?" was presented by Green MEP Bodil Ceballos, followed by a presentation by Dr. Kamran Matin on "International forces in the region and the role of Turkey".
---