New project aims to uncover Thomas Paine's revolutionary influences
By: Jacqui Bealing
Last updated: Tuesday, 10 July 2012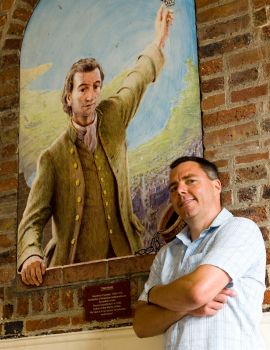 A project devoted to understanding what inspired 18th Century political pamphleteer Thomas Paine to help bring about American Independence is being launched at the University of Sussex on 16 July.
The Thomas Paine Project is concerned with the great transformation of political thought and politics in the years from Paine's arrival in Lewes, East Sussex, in 1768 to the end of his involvement in the North American Revolution and the French Revolution.
Set up by University of Sussex PhD student Paul Myles with historian Professor Richard Whatmore, the project involves digitising editions of the Sussex Weekly Advertiser or Lewes Journal from 1768 until 1774 – the year Paine left for America.
Mr Myles says: "The mystery is how Paine came to have these ideas that led to him writing Common Sense, the book that convinced American colonists that they should fight for independence."
There is a suggestion that the editorial of the Sussex Weekly Advertiser was more radical than other local newspapers, perhaps influencing Paine, or possibly even pointing to him as the author. "Everything that Paine needed to know was in that paper,' says Mr Myles. 'This is what we now need to interpret, which we'll be doing alongside looking at other writing of the time."
As well as making materials about Paine's life available online, the project - which was inspired by the success of the 2009 Lewes Festival 'Thomas Paine in Lewes: Revolution and Reason' - aims to disseminate knowledge of Paine and his times among school children and adult learners in Sussex and beyond and to help to establish a visitor centre about the man and his work.
The project is linked to the broader activities of the University of Sussex's Centre for Intellectual History, including public lectures and events to promote research into the intellectual world of the eighteenth and early nineteenth centuries and making available online manuscript and printed sources of interest to scholars and to the general public.
Notes for editors


For more information about the project, see http://www.sussex.ac.uk/cih/research/paine or contact Paul Myles pmyles@btclick.com
The Thomas Paine Project is being taken forward with help from the Thomas Paine Society UK, Brewers Decorating Material, The Daughters of the American Revolution: Walter Hines Chapter London, Lewes District Council and Lewes Priory School.
University of Sussex Press office contacts: Maggie Clune and Jacqui Bealing. Tel: 01273 678 888. Email: press@sussex.ac.uk