You can choose from a wide range of single and joint honours Politics courses, learn from nationally-recognised experts, develop career skills through our Westminster internship programme, and get involved in politics through our Politics society and politics trips.
Key facts about Politics at Sussex
You can choose from courses including single honours Politics and joint honours courses. If you choose a single honours course you can study elective modules from subjects such as international relations, philosophy, history, and international development
If you choose a joint honours course, your modules will be split equally between two departments
You will learn from academics who are not only experts in their field but who have won national teaching awards
If you are a single honours student, you can gain work experience in politics through a Westminster internship in your final year where you work for an Member of Parliament (MP)
You can experience politics in other countries, by going on trips organised by the department to Berlin and Paris
You can join the Politics society to attend talks and events on the latest political issues, hear from renowned speakers, and contribute to the undergraduate politics journal
You will gain transferable skills through modules in policy analysis, and research skills and methods in political science.
You will have access to our virtual learning environment - Study Direct. Each module has a dedicated webpage where you can find all the information you need to study the module, including links to resources in the library.
At the start of a module, the convenor will upload the slides to support lectures at least 24 hours in advance of the lecture to enable you to prepare for the session.
Politics at Sussex
Read about Sussex Politics student Solomon who stood for election as an MP in the 2015 general election.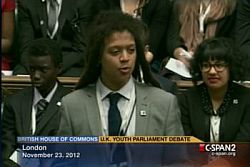 Solomon, a Sussex Politics student, was selected to contest an East Sussex seat for Labour in the UK general election and said his politics degree has taught him "a lot about issues in politics, and how policies really relate to the public".
He adds: "I have had excellent tutors who have contributed a huge wealth of knowledge to my life."
In his first term at Sussex, Solomon studied Contemporary Issues in Politics as well as Political Theory, but it is another module that he describes as "the most exciting" so far.
"The British Political History course has been really influential in shaping my campaign," explains Solomon. "With the 2015 election 70 years on from the Attlee government of 1945 which led to the creation of the NHS, I am more keen than ever to re capture the mood of optimism, hope and aspiration."