Where Sussex Geography degrees can lead
Students undertaking Geography degrees at Sussex have exceptionally high rates of completion. Our graduates possess extensive knowledge and experience, a good understanding of the geographical relationships between the natural and human world and a well-developed mental flexibility, all of which are highly valued by employers.
Sussex Geography graduates usually encounter little difficulty in finding rewarding careers. Many choose to take higher degrees before finding employment. Our graduates find careers in a diverse range of vocational fields such as environmental management and NGO educational activity, as well as the kind of private sector managerial work that attracts graduates from a variety of disciplines.
Full details of where Sussex Geography graduates have ended up, along with advice concerning potential career pathways for geography graduates, can be found via the University's Careers and Employability Centre.
Watch Sussex graduate Briony Coulson talk about her career:
Take a look at a few career perspectives from some of our graduates:
Matthew's career perspective

'My time at Sussex was unmissable. My degree provided me with highly relevant skills for my career as I learnt how to apply an international development perspective to community engagement. Having learnt about a global approach to sustainable development, I then saw it in action during a field trip to Zimbabwe and since have worked on it at a local level in Lewes.
'The tutors' real life experience in the field meant that the teaching wasn't just theoretical, and it was extremely useful having the Institute of Development Studies on the doorstep.
'I would advise future students to get some work experience in your second year, as it can support your third year project and really benefit your career path.'
Matthew Bird
Sustainability and Energy Officer
Lewes District Council
Keme's career perspective

'Sussex's uniquely alternative intellectual agenda was excellent preparation for working on a challenging TV news programme. The things our long-suffering tutors tried to instil in us – turning issues on their heads and analysing them from unlikely angles – we and our editors now battle with on a daily basis. Studying Geography was a great Trojan horse for me to indulge in pretty much whatever academic endeavour floated my boat. I really did enjoy my undergraduate time at Sussex.'
Keme Nzerem
Reporter and presenter,
Channel 4 News
Samantha's career perspective

'Being particularly interested in development and conservation issues, and how the two can be compatible, the Geography degree programme at Sussex seemed to fit my needs perfectly.
'It was through the University that I first came to Madagascar – after finding out about VSO's Overseas Training Programme – and I spent a year working with the NGO Feedback Madagascar (www.feedbackmadagascar.org) between the second and third year of my degree. This was a life-changing experience, bringing a whole new dimension to my studies and giving me the Madagascar "bug"; I have been out here ever since.
'In 2005 I was awarded an MBE for "services to healthcare and community development in Madagascar". We are continuing to build on our rural development and conservation programmes, and work is forever challenging and fulfilling – both in the field and in the office.'
Samantha Cameron MBE
Programme coordinator,
Feedback Madagascar
Peter's career perspective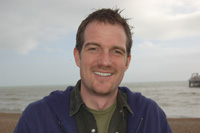 'Since graduating with my geography degree from Sussex I've started my own company and joined the board of two charities, been a senior advisor to the Government, a director of a large third-sector organisation, and I'm now an MP. It's been a pretty varied career path, but the understanding of the relationship between people and places that I learned in my time at Sussex provided me with the perfect grounding for all of these vocations – from enterprise to politics.'
Peter Kyle
Labour MP for Hove and Portslade
Benjamin's career perspective

'I enjoyed my Geography degree at Sussex so much that afterwards I continued on to a postgraduate course, then a PhD and then into academia. Working on a large research programme in the Education Department at Sussex established my interest in international education and development.
'Sussex is a world-leading place to study development, with so much research going on in the School of Global Studies, the Institute of Development Studies, the Centre for International Education and also the Medical School.
'You should get involved in student-led associations and look into study abroad opportunities early on in your degree; don't wait until you have almost finished to discover all the things on offer to you.
'I made some lasting friendships at Sussex and had a lot of fun as a student.'
Dr Benjamin Zeitlyn
Lecturer in International Education and Development
University of Sussex