British Art and the East India Company – Professor Geoff Quilley
This research is towards completion of a book project, resulting from an invitation for a book proposal for Boydell and Brewer's new series The Worlds of the East India Company, from the series editor, Professor Huw Bowen. The research has been enabled by a two-year Senior Research Fellowship from the Leverhulme Trust.
The project investigates the relationship in early-modern Britain between the visual arts and the world of corporate finance and mercantile economy, through studying the East India Company's (EIC) involvement in the arts. While it is well known that a great deal of art in this period was produced for, or in connection with, the EIC, there has been no systematic study of the artistic concerns of the Company, nor any consideration of the implications for our understanding of early-modern art's connections with mercantile capitalist enterprise and an increasingly global commercial system, at a time when the major institutions of art, such as the Society of Artists (1760) and the Royal Academy (1768), were being established.
The EIC was involved at all levels of artistic patronage, both corporate and individual, although not in a necessarily consistent or programmatic way. The Company was well aware of the political uses of art, and made use of it to generate a positive corporate image at key moments in its history; but artistic patronage was more often undertaken either by individuals on behalf of the Company (where private and corporate interests were blurred) or by discrete departments within the EIC, such as Alexander Dalrymple's efforts to promote the uses of art for the purposes of hydrography and develop more secure knowledge about the sea routes to India and China. Individual artists, such as William Hodges or Thomas and William Daniell similarly exploited the growing imperial and financial power of the EIC to develop their own career, creating in the process a novel form of landscape depiction out of the convergence of artistic, Company and imperial interests in India.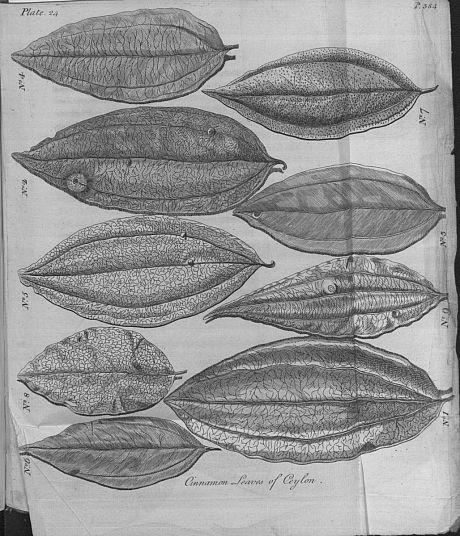 [image: 'Cinnamon leaves of Ceylon', from Thomas Forrest, A Voyage to New Guinea, and the Moluccas, from Balambangan: including an Account of Magindano, Sooloo, and other Islands; and Illustrated with Thirty Copperplates. Performed in the Tartar Galley, belonging to The Honourable east India Company, during the Years 1774, 1775, and 1776, by Captain Thomas Forrest. To which is added, A Vocabulary of the Magindano Tongue, 2nd edition (London: G. Scott, 1780), plate 24]