Centre for the Study of Art and Travel – Professor Geoff Quilley
This research centre was set up, under the direction of Geoff Quilley, at the National Maritime Museum, Greenwich, in 2007. Its aims are: to investigate art and travel and their related histories, mainly in British culture from the early-modern period up to the present day, and to develop this as a distinct area for interdisciplinary research; to establish stronger links between museums and academic institutions through opening up access to the Museum's collections, and related collections in other institutions, for scholarly research; and to provide a forum for intellectual exchange among a broad community of students and academics both in the UK and overseas.
Following a series of workshops devoted to key issues within the overall theme, funded through the AHRC Landscape and Environment Programme, the Centre has been granted two Collaborative Doctoral Awards, focussing on the collections in the National Maritime Museum: for Charlotte Mullins, whose DPhil dissertation, 'The World on a Plate: The Impact of Photography on Travel Imagery and its Dissemination in Britain, 1839-1888', was completed successfully in 2013; and for Geoff Snell, 'A Forest of Masts: the Image of the River Thames in the Long Eighteenth Century', due for completion in 2013/14. The Centre also organized a series of lectures supported by the Paul Mellon Centre for Studies in British Art, London, on Art and Travel in the Mediterranean, 1600-1900. Funding will be sought in 2014 for a new large-scale project on 'British art and travel, c.1750-c.1900'.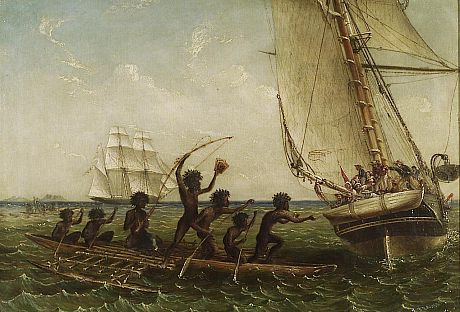 [image: Thomas Baines, Aboriginal Canoes Communicating with the 'Monarch' and the 'Tom Tough', 28 August 1855, 1868, oil on canvas, 458 x 660mm, National Maritime Museum, Greenwich]
For further information, please visit the Centre for the Study of Art & Travel website