We have the learning resources and postgraduate support network to help you succeed at Sussex, and in your future career.
Why study a PhD at Sussex?
Sussex is the lead institution of CHASE - the Consortium for the Humanities and the Arts Southeast England. As well as funding up to 75 studentships annually for home and EU students, CHASE offers a wide array of training and development programmes that are open to all Sussex doctoral students, regardless of funding.
All Sussex doctoral researchers can make use of the Doctoral School, which works closely with the Research Hive to run training and development courses in areas such as improving your academic writing, developing your online profile, preparing for your viva, and getting your research published.
Doctoral students in the School of English also have access to the Starting to Teach Programme. This unique scheme combines the experience of a teaching placement on an undergraduate course alongside a member of the English faculty, with workshops on the theory and practice of seminar teaching in the humanities. Following completion of this programme, our students are eligible to apply for paid teaching in the School.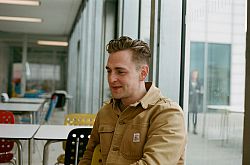 'The School of English is a wonderful place to do your PhD.
'The doctoral supervisors are great: in my case, Professor Daniel Kane's incredible support and guidance ensured that ultimately my thesis passed without corrections. With his help, I also successfully applied for a number of research grants and awards including most recently a Leverhulme Early Career fellowship.
'It's very sociable: from conferences to symposia to graduate seminars and public events there are loads of ways to get involved in the School, meet other PhD students, hear about their work, and tell them about yours.
'I've made lifelong friends here whose exciting research I'm totally in awe of! At the School of English you'll also find a community of scholars who are ready to discuss your work – faculty members are always willing to offer you the benefit of their expertise in exchange for a cuppa.'
Diarmuid Hester
PhD student
Explore our students' PhD theses
Below are some titles of PhD theses submitted by research students within the School of English. Many of these can be found in Sussex Research Online, a digital repository of University research output.
2016 titles

Using monuments
Thomas Houlton

Language attitudes and ethnic identity in a diglossic setting: the case of Greek-Cypriot students
Marianna Kyriakou

Lacan: the topological turn
William Greenshields

Expressive states: the gendered nation as literary text and narrative
Divya Mehta

Dismantling the face in Thomas Pynchon's fiction
Zachary Rowlinson

The vertigo of the beast: thinking animals in literature
Robin Shochat Bagon

Performing consumption and consuming performance: a 17th century play collection
Maria Kirk

Shifting targets in Reformation allegory: Five case studies, 1515-1575
Maria Perysinakis

War and space in English fiction, 1940 to 1950
Warwick Smith

Monstrous happiness: a comparative study of maternal and familial happiness in neoliberalism in Japanese and British women's writing in the 1980s.
Nozomi Uematsu

2015 titles

William Blake in the 1960s: counterculture and radical reception
Luke Walker

The Seventies according to Muriel Spark: space and the novel
Jack Arden

Augustanism in Henry James: his reception of Horace, Virgil, Livy and Tacitus
Mauro Lo Dico

The Art of Healing: Psychoanalysis, Culture and Cure
Joanna Kellond

Modernist objects/objects under modernity: a philosophical reading of Discrete Series
Edwin Hercock

'Sometimes I fear that the whole world is queer': What bisexual theories, identities and representations can still offer queer studies
Joseph Ronan

The motel in the heart of every man: the transitional spaces of Don DeLillo
Adam D Baldwin

The Poetry and Poetics of Douglas Oliver: 1973-1991
Joseph Luna

Things 'necessary' and 'unnecessary': trash and trifles in Early Modern England, 1519-1614
Katrina Marchant

Nancy Cunard: Collector, Cosmopolitan
Jennifer Greenshields

2014 titles

The acquisition of consonants in first language development
Carol J O'Neal

Politics, history and personal tragedies: The novels of Jonathan Coe in the British historical, political and literary context from the seventies to recent years
Francesco Di Bernardo

Orientalism between text and experience: Richard Burton, T E Lawrence and the changing discourse of sexual morality in the Arab East
Feras Alkabani

Space, spatiality, and epistemology in Hooke, Boyle, Newton, and Milton
Puck F Fletcher.

E M Delafield and the feminist middlebrow
Tanya Izzard

Self-seeing in Paul Auster, Philip Roth and Don DeLillo
Michael Jones

From desire to discontent: Isabelle Eberhardt between cultures
Kirsty Bennett

Unseen Stars: a psychogeographical journey through time and dream towards acceptance
Peter Bailey

A stylistic analysis of the pragmatics of thou in early modern English dialogues
Maggie Kerridge

A grammar of Hadari Arabic: a contrastive-typological perspective
Khaled Albahri

Swoon: The Art of Sinking
Naomi Booth

Politics, history and personal tragedies: The novels of Jonathan Coe in the British historical, political and literary context from the seventies to recent years
Francesco Di Bernardo

2013 titles

Finding words: a collection of poems with a critical preface
Patrick G Bond

Witchcraft and the book trade in early modern England
Simon F davies

The image and the body in modern fiction's representations of terrorism: embodying the brutality of spectacle
Elizabeth M Sage

Dissident metaphysics in Renaissance women's poetry
Sajed A Chowdhury

Patterns of mischief: the impact of the Gunpowder Plot on the Jacobean stage 1605-16
Victoria J Buckley

Argumentation by figurative language in verbal communication: a pragmatic perspective
Kim Dae-Young

Telling the bees: a collection of poems with a critical preface
Margaret A. Williams

William Wordsworth, James Joyce and E.M. Forster: the romantic notion of education and modern fiction
Saijad Ali Khan

Literature, visual culture and domestic spheres, 1799-1870
Jeonsuk Kim

The Handsworth Times: part one of a novel in progress with synopsis and critical introduction
Sharon Duggal

'Ugly Lovely' - being a work of creative writing with accompanying critical commentary
Richard Beynon

Shakespearean lives and works
Sean Palmer

Ram Alley, or Merry Tricks (Lording Barry, 1611): a critical edition
Duncan Fraser

The representation of Latin America in the fiction of Joseph Conrad, DH Lawrence and Malcolm Lowry
Ben Funge

Literature, intuition and faith
Fiona Turner

Nineteenth century concepts of androgyny with particular reference to Oscar Wilde
Dietmar Geyer
How to write a research proposal
While applications can be considered at any time of the year, applicants who are seeking financial support from UK Research Councils, or other funding institutions should ideally begin the application process in the preceding autumn.
The School places considerable store on ensuring that proper supervision is available, and this can frequentlty involve discussion with applicants around the nature of their project. Potential candidates may wish to contact the Director of Doctoral Studies, Dr Richard Adelman, about their topic before completing a formal application.
Applicants for research degrees are asked to submit a research proposal. Find out how to structure your research proposal below:
Writing your research proposal

Your research proposal should include:

1. Title

Be as concise and explicit as you can.

2. Introduction

Use this section to introduce the questions and issues central to your research. Identify the field of study in broad terms and indicate how you expect your research to intervene in the field.

3. Research background and questions

Use this section to expand your Introduction. What are the key texts and approaches in the field, and how does your proposal differ from existing lines of argument? What does your project contribute to existing work in the field? How does it extend our understanding of particular questions or topics? You need to set out your research questions as clearly as possible, explain problems that you want to explore and say why it is important to do so.

4. Proposed reearch methods and contexts

This section should set out how you intend to engage with your reearch topic:

Does your project involve archival sources, particular databases or specialist libraries?

Is your study interdisciplinary?

What theoretical resources do you intend to use and why?

Is your research based on the work of a single author or a group of writers or texts?

What forms of textual, historical or visual analysis are relevant to your topic/field?

5. Schedule of work

Use this section to show that you have a realistic plan for completion of the study within three years of full-time study.

6. Bibliography

Include an indicative bibliography, in a standard format such as Harvard, listing the books and articles to which you refer in the proposal.

For more information please visit the Research Degrees webpages.

Some of these sections will be easier to write than others at this preliminary stage. The selectors who read your proposal know that it is a provisional statement and that your ideas, questions and approaches will change during the course of your research. You should treat the proposal as an opportunity to show that you have begun to explore an important area of study and that you have a question, or questions, that challenge and develop that area. It is also necessary to demonstrate that you can express your ideas in clear and precise English, accessible to a non-specialist.
Chancellor's International Research Scholarship
The School of English is very pleased to welcome three new PhD scholars this year, who are all recipients of the Chancellor's International Research Scholarship. This scholarship provides funding for exceptional international students from around the world to come and undertake doctoral research at the University of Sussex, and in doing so make an important contribution to the research culture of the School.
Munire Maksodoglu

Munire is from Turkey and is working with Professor Matthew Dimmock, exploring the Representation of the 'Turke' in the Early Modern English Drama.

Shalini Sengupta

Shalini is from Kolkata in India and is working with Professor Sara Crangle, researching small-press female poets such as Denise Riley, Anna Mendelssohn, Wendy Mulford and Alice Notley, and how their work challenges gendered assumptions in language.

Aanchal Vij

Aanchal is from New Delhi and is working with Dr Pam Thurschwell. Her research will centre on the ways in which guilt manifests itself in narratives of nostalgia in contemporary American literature and culture.
Contact us
For enquiries about Doctoral admissions please contact the Research and Enterprise Coordinator for the School of English, Laura Vellacott:
Email: L.Vellacott@sussex.ac.uk
Telephone: +44 (0)1273 873429
You might also be interested in: