We have the learning resources and postgraduate support network to help you succeed at Sussex, and in your future career.
Why study a PhD at Sussex?
Sussex is the lead institution of CHASE - the Consortium for the Humanities and the Arts Southeast England. As well as funding up to 75 studentships annually for home and EU students, CHASE offers a wide array of training and development programmes that are open to all Sussex doctoral students, regardless of funding.
All Sussex doctoral researchers can make use of the Doctoral School, which works closely with the Research Hive to run training and development courses in areas such as improving your academic writing, developing your online profile, preparing for your viva, and getting your research published.
Doctoral students in the School of Media, Arts and Humanities also have access to the Fundamentals in Teaching and Learning Programme. This unique scheme combines the experience of a teaching placement on an undergraduate course alongside a member of faculty, with workshops on the theory and practice of seminar teaching in the humanities. Following completion of this programme, our students are eligible to apply for paid teaching in the School.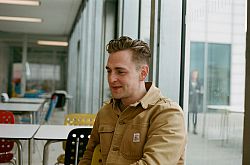 'The University of Sussex is a wonderful place to do your PhD.
'The doctoral supervisors are great: in my case, Professor Daniel Kane's incredible support and guidance ensured that ultimately my thesis passed without corrections. With his help, I also successfully applied for a number of research grants and awards including most recently a Leverhulme Early Career fellowship.
'It's very sociable: from conferences to symposia to graduate seminars and public events there are loads of ways to get involved in the School, meet other PhD students, hear about their work, and tell them about yours.
'I've made lifelong friends here whose exciting research I'm totally in awe of! You'll also find a community of scholars who are ready to discuss your work – faculty members are always willing to offer you the benefit of their expertise in exchange for a cuppa.'
Diarmuid Hester
PhD student
How to write a research proposal
While applications can be considered at any time of the year, applicants who are seeking financial support from UK Research Councils, or other funding institutions should ideally begin the application process in the preceding autumn.
The School places considerable store on ensuring that proper supervision is available, and this can frequentlty involve discussion with applicants around the nature of their project.
Applicants for research degrees are asked to submit a research proposal. Find out how to structure your research proposal below:
Writing your research proposal

Your research proposal should include:

1. Title

Be as concise and explicit as you can.

2. Introduction

Use this section to introduce the questions and issues central to your research. Identify the field of study in broad terms and indicate how you expect your research to intervene in the field.

3. Research background and questions

Use this section to expand your Introduction. What are the key texts and approaches in the field, and how does your proposal differ from existing lines of argument? What does your project contribute to existing work in the field? How does it extend our understanding of particular questions or topics? You need to set out your research questions as clearly as possible, explain problems that you want to explore and say why it is important to do so.

4. Proposed reearch methods and contexts

This section should set out how you intend to engage with your reearch topic:

Does your project involve archival sources, particular databases or specialist libraries?

Is your study interdisciplinary?

What theoretical resources do you intend to use and why?

Is your research based on the work of a single author or a group of writers or texts?

What forms of textual, historical or visual analysis are relevant to your topic/field?

5. Schedule of work

Use this section to show that you have a realistic plan for completion of the study within three years of full-time study.

6. Bibliography

Include an indicative bibliography, in a standard format such as Harvard, listing the books and articles to which you refer in the proposal.

For more information please visit the Research Degrees webpages.

Some of these sections will be easier to write than others at this preliminary stage. The selectors who read your proposal know that it is a provisional statement and that your ideas, questions and approaches will change during the course of your research. You should treat the proposal as an opportunity to show that you have begun to explore an important area of study and that you have a question, or questions, that challenge and develop that area. It is also necessary to demonstrate that you can express your ideas in clear and precise English, accessible to a non-specialist.
Contact us
For enquiries about Doctoral admissions please contact the Research and Enterprise team
Email: MAH-PGR@sussex.ac.uk
Telephone: +44 (0)1273 678001
You might also be interested in: